Reuters: Three-quarters of British company bosses are considering moving operations abroad following the vote to leave the European Union, according to a survey published on Monday.

The KPMG survey of 100 UK chief executives, from companies with revenues between 100 million pounds and one billion pounds ($130 million-$1.30 billion), found 86% were confident about their company's growth prospects and 69% were confident about the British economy's growth prospects over the next three years.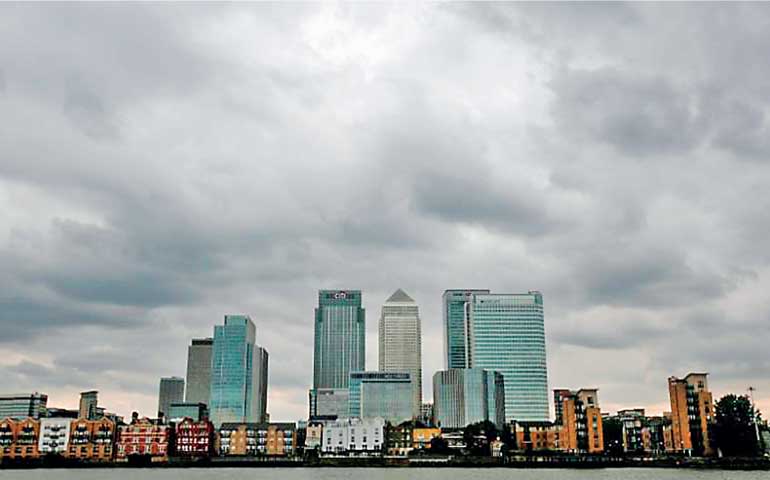 Storm clouds are seen above the Canary Wharf financial district in London, Britain - REUTERS
However, 76% said they were considering moving either their headquarters or their operations outside Britain because of the June 23 "Brexit" vote.

"CEOs are reacting to the prevailing uncertainty with contingency planning," said Simon Collins, KPMG UK chairman.

"Over half believe the UK's ability to do business will be disrupted once we Brexit and therefore, for many CEOs, it is important that they plan different scenarios to hedge against future disruption."

The June vote has created uncertainty over Britain's future economic and trade relationship with the European Union.

John Nelson, chairman of Lloyd's of London, told Reuters last week that the insurance market would be ready to move some of its business to the EU as soon as Britain invoked Article 50 of the EU's Lisbon Treaty, which triggers the start of exit from the bloc.

Aides to Prime Minister Theresa May have suggested she hopes to trigger Article 50 early next year, opening the way for up to two years of negotiations.

Asked what would encourage businesses to continue investing in Britain following the Brexit vote, the majority of CEOs surveyed by KPMG ranked certainty over trade terms as the most important.

Only one CEO said a timetable for triggering the formal divorce process and the subsequent exit was the most important factor.

KPMG said 72% of the CEOs surveyed had voted to remain in the EU.

The Brexit vote has hit the British currency, with sterling skidding to a five-week low close against the dollar on Friday, but a Reuters poll this month found Britain is expected to narrowly dodge a mild recession that was widely predicted after the referendum.

More than 20 European business associations and companies interviewed by Reuters said they backed their governments' position that Britain's banking sector can only enjoy EU market access post-Brexit if the country still follows the bloc's rules.
Optimism in Britain's finance industry hits financial crisis low
Reuters: Optimism about the outlook for Britain's financial services sector is at its lowest point since the financial crisis, a survey of finance firms showed on Monday.

The latest survey of 115 financial services firms by business lobby CBI and consultancy PwC found that optimism fell during the three months to September, the third quarter in a row that it has dropped, marking the longest decline since the depths of the financial crisis in 2009.

Over half of all financial firms surveyed said the general impact of Britain's Brexit vote was negative, with only one in ten firms seeing any upside.

"With firms voicing strong concerns about the impact of Brexit, especially the risks to the wider economy in the years ahead, the government must allay their unease with clear plans for negotiations to leave the EU," CBI Chief Economist, Rain Newton-Smith, said in a statement.

Britain's financial industry is the economy's biggest tax earner as firms benefit from a European Union "passport" allowing them to operate across the bloc from a British base.

Britain will have to negotiate new trading terms with the EU and it is unclear if full passporting for financial services will continue so that companies can avoid having to invest in a new base inside the EU.

The Lloyd's of London insurance market said last week it was planning to move some underwriting activity to the EU if there is no full access to the single market.

"Many of our clients are considering their options, including potential restructuring and relocation of their businesses," Andrew Kail, UK financial services leader at PwC, said.

"However, it's the domino effect on people, productivity and position as a financial hub that must be guarded against."

The survey also showed that a squeeze on profitability from very low interest rates, changes in technology and strong competition were also weighing on business sentiment.

Optimism was "broadly stable" in life and general insurance, and fell only slightly among banks, but dropped sharply among finance houses, building societies and investment managers.