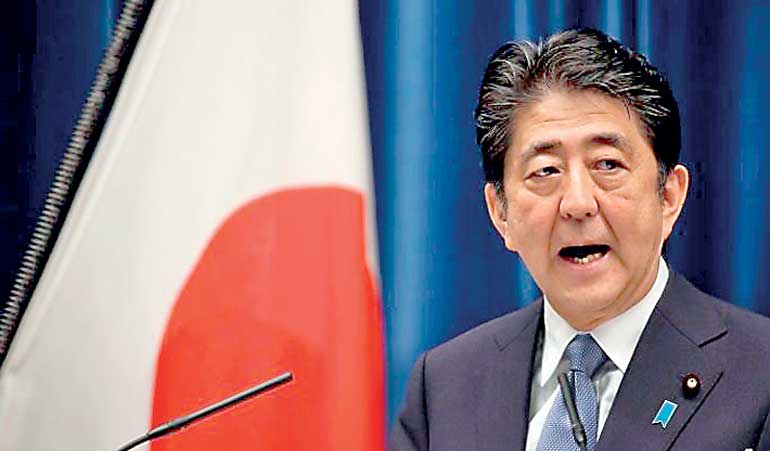 Japanese Prime Minister Shinzo Abe delivers a statement to mark the 70th anniversary of the end of World War II during a press conference at his official residence in Tokyo on, 14 Aug, 2015 - AP
Japanese Prime Minister Shinzo Abe will not attend events to mark the 70th anniversary of the end of World War Two in China next month, Japan's government spokesman said on Monday, amid concerns over China's military ambitions.

More than 10,000 troops – mostly Chinese but with contingents from Russia, Mongolia and a few other countries – will march through central Beijing on 3 September in a parade that will be the highlight of events marking the war's end.

Abe has tried to improve relations with China, but progress has been very slow due to Japan's perceived failure to atone for its wartime aggressions and China's increasingly assertive tone in territorial disputes in the South and East China Seas.

"The prime minister has decided not to attend because of his schedule in Parliament," Chief Cabinet Secretary Yoshihide Suga told reporters.

"He will not be travelling to China shortly before or after 3 September. We will continue to seek out ways for our two countries to communicate with each other."

China's Foreign Ministry did not immediately respond to a request for comment.

Earlier on Monday national broadcaster NHK said Abe would skip the ceremony in China to focus on collective self defence bills currently being debated in Parliament.

He also decided to side with Western leaders who are staying away from the military parade in China because of worries about its military expansion in the region, the Sankei newspaper reported earlier on Monday.

European and US officials have expressed concern that the show of military power could send the wrong signal in an already tense region.

Tanks rumbled through Beijing and fighter jets flew overhead during the weekend in a parade rehearsal.

China has drawn criticism for reclaiming land in the disputed South China Sea, as neighbouring countries fear China could use the land as a military base.

China and Japan also dispute islets in the East China Sea.Sino-Japan relations have long been affected by what China sees as Japan's failure to atone for its occupation of parts of the country before and during the war. Western and Chinese historians estimate millions of Chinese civilians were killed.

Ties have thawed slightly since Abe and Chinese President Xi Jinping met at multilateral gatherings in April and last November, but the diplomatic relationship between Asia's two biggest economic powers is far from friendly.

"70 years ago we relied on the unity and patriotism of the Chinese people to defeat the Japanese fascist invaders, and today we rely on this same spirit to oppose the Japanese rightists' plots to beautify the history of invasion," the Study Times, an influential Communist Party newspaper, said on Monday.