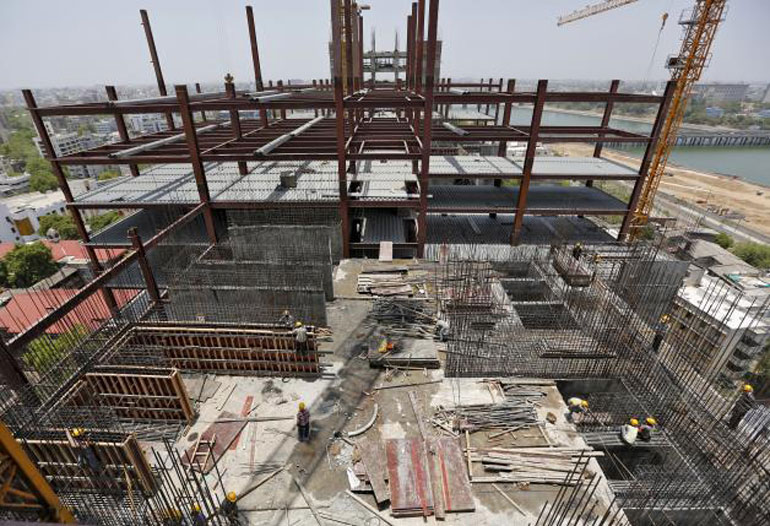 Reuters: India's economy grew faster than China's in the quarter through March, data showed on Friday, but a sharp downward revision for the previous quarter fuelled doubts about the accuracy of a new method used to measure economic activity.

Asia's third-largest economy grew 7.5% year-on-year in the last quarter, according to the data, outstripping China's 7% growth in the same quarter and beating a Reuters poll of economists who forecast 7.3% growth.


India also celebrated faster growth than its larger neighbour in the December quarter, but on Friday the Central Statistics Office sharply revised growth down to 6.6% from 7.5%, further distorting the picture.


"At face value, today's GDP figures for (January-March) suggest that India is the fastest-growing major economy in the world," said Shilan Shah, India Economist at Capital Economics.


"In reality though, the GDP data remain wildly inconsistent with numerous other indicators that point to continued slack in the economy."


Economists were already having a hard time reconciling the headline numbers with dismal corporate earnings, weak industrial activity and an elusive recovery in bank credit.

Full-year growth for the fiscal year ending in March came in at 7.3%, data on Friday showed, up from 6.9% in 2013/14, a tad lower than an official estimate of 7.4%.


Back in December, the government estimated growth for the year would be 5.5% using the old methodology. That would have represented a modest improvement after two successive years of growth below 5% -- the worst in a quarter century.

But the Statistics Office's reworking of the numbers has transformed India's official growth pace under Prime Minister Narendra Modi, who made economic reforms a priority during his first year in office.


The new method measures economic activity by market prices instead of factor costs, taking into account gross value addition in goods and services as well as indirect taxes. Government statisticians say this conforms with global practice and helps demonstrate structural changes in the economy.

However, they failed to explain several gaps in the new GDP data, leading to confusion that risks wrong-footing financial markets and policymakers.


Friday's data compounded the problem. Headline GDP accelerated from the previous quarter but another measure of economic activity in the data showed growth slowed down to 6.1% in the last quarter from 6.8% in the December quarter.


"There are methodological issues," said D.K. Joshi, chief economist at Crisil. "That is why there is a variance between the volume indicators available at the ground level and value indicators which are being increasingly used in the computation of the GDP."


The Reserve Bank of India (RBI) has also voiced caution over the new series. RBI Governor Raghuram Rajan said this week that the economy was still slow in picking up. The RBI is widely expected to cut interest rates for the third time this year at a policy review on Tuesday.


"These numbers should not influence the central bank," said Joshi, who expects a 25 basis point rate cut on 2 June.

India's economic outlook has improved over the past year. It was on the brink of losing its investment grade credit ratings midway through last year but is now widely seen as a potential engine of global growth.


By any measure, its performance compares favourably with many. Both the United States and Brazil reported economic contractions in the March quarter.

But few believe India is running on full steam. Around 60% of the economy is not showing signs of improvement from the slowdown, said Pranjul Bhandari, chief India economist at HSBC.