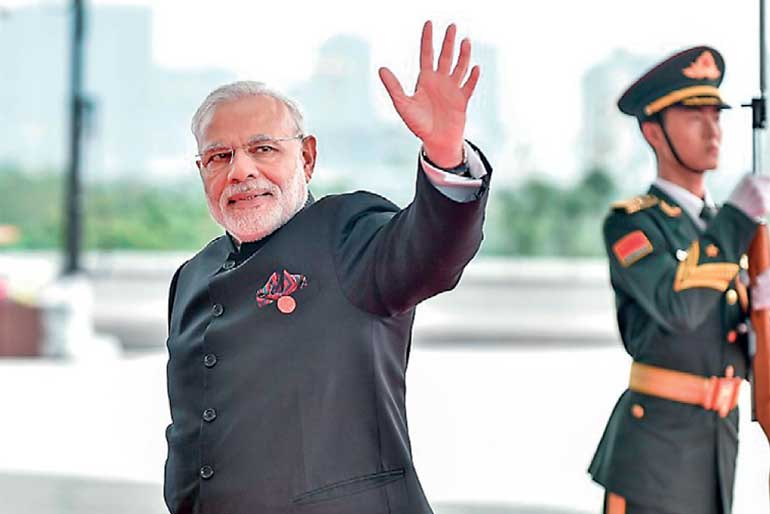 Prime Minister Narendra Modi of India arrives at the Hangzhou Exhibition Center to participate to G20 Summit, in Hangzhou, Zhejiang province, China, 4 September, 2016 - REUTERS
Reuters: Tensions between India and Pakistan rose on Tuesday as India's leader cancelled a visit to a regional summit and Islamabad warned it would treat it as "an act of war" if India revoked a water treaty.

India blames Pakistan for a deadly assault on an army base in the disputed Himalayan region of Kashmir this month that has heightened fears of a new conflict between the nuclear-armed neighbours.

India says militants sneaked across the de facto border that separates the countries and killed 18 soldiers on Sept. 18, the biggest loss of life for Indian security forces in the region for 14 years.

Pakistan rejects the accusation and says India should conduct a proper investigation before it apportions blame.

India said Prime Minister Narendra Modi would not attend the South Asian Association for Regional Cooperation (SAARC) summit, a regional meeting of South Asian leaders, in Pakistan in November.

"Increasing cross-border terrorist attacks in the region and growing interference in the internal affairs of Member States by one country have created an environment that is not conducive to the successful holding of the 19th SAARC Summit," India's foreign ministry said in a statement.

"In the prevailing circumstances, the Government of India is unable to participate in the proposed summit in Islamabad."

Pakistan's foreign ministry called India's move "unfortunate" and said it remained committed to peace and regional cooperation. In a statement, it accused India of meddling in Pakistan's internal matters.

India's announcement came hours after Sartaj Aziz, foreign policy adviser to Pakistani Prime Minister Nawaz Sharif, warned India against drawing more water from three rivers that flow from India into Pakistan.

Aziz said Islamabad would seek arbitration with a commission that monitors the Indus Water Treaty if India increased its use of water from the Chenab, Jhelum and Indus rivers.

India says it does not plan to abrogate the treaty but Modi said on Monday India should "maximise" the amount of water it uses without breaching the agreement.

If India revoked the treaty, Aziz said, Pakistan would treat that as "an act of war or a hostile act against Pakistan".

"It's highly irresponsible on the part of India to even consider revocation of the Indus Water Treaty," Aziz told the national assembly.

New Delhi has vowed to respond to the Kashmir attack, and has launched a campaign to isolate Pakistan diplomatically, including through the United Nations.

Aziz said India's provocative posturing constituted a breach of the water treaty and was an attempt to deflect attention from unrest among the Muslim population in the Indian-ruled side of Kashmir.

Divided between India and Pakistan since 1947, the flashpoint of Kashmir lies at the heart of the countries' rivalry.

India on Tuesday summoned Pakistan's High Commissioner in New Delhi and told him that security forces had in their custody two men from Pakistan-controlled Kashmir who had helped the gunmen cross the border before launching the army base raid.

Indian and Pakistani mistrust has long undermined South Asian cooperation and is widely blamed for the poor performance of SAARC, which successive Indian leaders hoped would help South Asia become a viable economic counterweight to China.