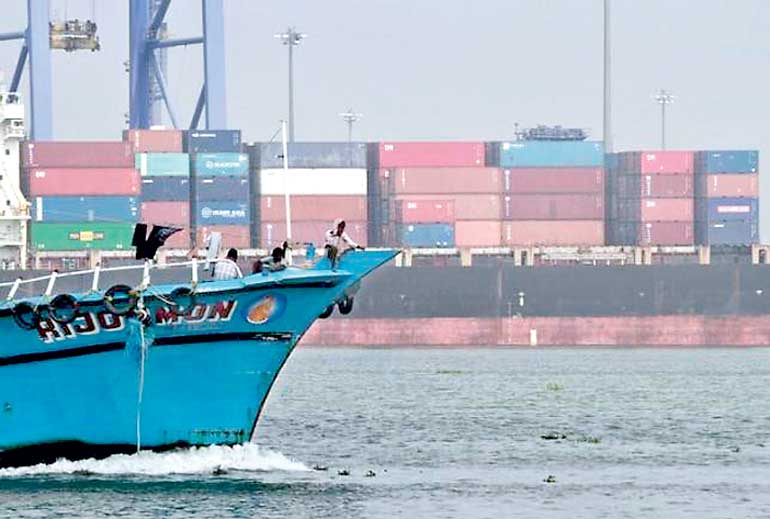 Fishermen sit in a trawler navigating past containers stalked on a ship at a port in Vallarpadam in Kochi – REUTERS
India's goods exports fell for the seventh straight month in June as global demand remained sluggish, underscoring the challenges Prime Minister Narendra Modi will face to maintain and further boost economic growth.

Merchandise exports, equivalent to about a fifth of India's $ 2 trillion economy, have shown increasing weakness in recent months. In June, they contracted 15.82% year-on-year to $ 22.29 billion.

While Modi aims to accelerate growth to over 8% in 2015-16, a global trade slowdown is undermining chances of an export-led recovery, while high interest rates and weak monsoon rains are putting the brakes on domestic demand.

"It's a very sharp decline ... If this trend continues then we would expect a much lower GDP number," said N.R. Bhanumurthy, an economist at the National Institute of Public Finance and Policy, a Delhi-based think tank.

Bhanumurthy, however, said he was hopeful India's exports will pick up pace as the global economy revives.

Modi aims to almost double goods and services exports to $ 900 billion in the next four years, but his 'Make in India' initiative to attract foreign investors has yet to yield results even though big Asian tech investors are circling.

Indian businesses are losing competitiveness due to high borrowing costs and the relative strength of the rupee, as well as the country's long-standing weaknesses – bad infrastructure, red tape and corruption.

Hopes of a near-term cut in interest rates have been dampened by the latest figures showing that consumer price inflation rose to an eight-month high in June.
---
India simplifies foreign investment rules, banks to benefit
India has simplified rules for foreign investment in companies by clubbing together different categories, Finance Minister Arun Jaitley said on Thursday, effectively giving equal treatment to global capital entering Asia's third largest economy.

The move, flagged by Jaitley in his budget in February, will make it easier for banks like Yes Bank and Axis Bank to raise capital up to a foreign ownership limit of 74%, say analysts.

"One of the most important decisions in relation to the investment is the introduction of composite caps for simplification of foreign direct investments," Jaitley told reporters after a cabinet meeting.

Jaitley said foreign direct investment, foreign portfolio investment and investments by non-resident Indians would be "clubbed together under a composite cap".

Banking stocks rose after the announcement. Axis Bank shares rose nearly 5%, while Yes Bank gained 3.6% in a Mumbai market that was up 0.8%.

Previously, foreign capital had been subject to varying restrictions – a legacy of India's socialist past and its lingering reluctance to allow capital to move freely across its borders.

The Department of Industrial Policy and Promotion (DIPP), part of the Commerce Ministry, proposed simplifying the investment rules after Prime Minister Narendra Modi won an election last year by pledging to boost investment and jobs.

For banks, the shift will lead to an increase in their effective free float – or the number of shares that can be easily traded. That in turn would lead to an increase in their weighting in benchmark indexes tracked by many fund investors.