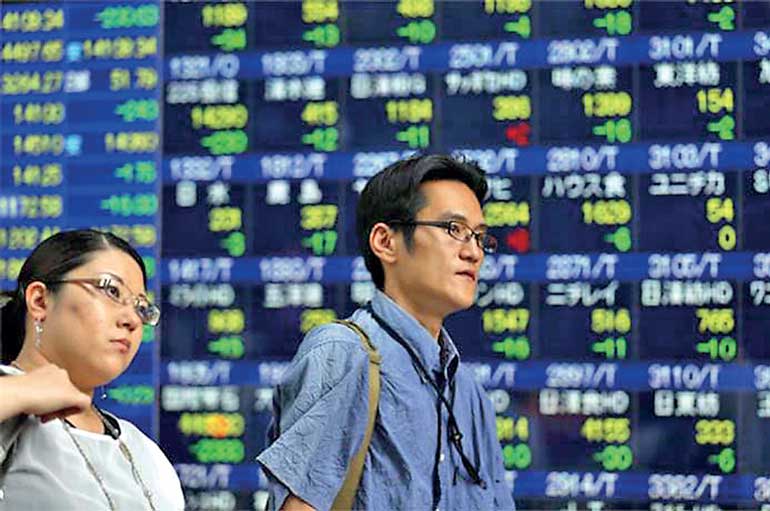 Reuters: Asian shares rose to near two-year highs on Tuesday as growing optimism over tech industry earnings and easing concerns over North Korea offset softer-than-expected factory readings in China and the United States.

MSCI's broadest index of Asia-Pacific shares outside Japan gained 0.5% to its highest level since June 2015, as many of the region's markets reopened after a long holiday weekend. Japan's Nikkei rose 0.7%.

European shares are seen rising after a market holiday on Monday, with spread-betters expecting Britain's FTSE to rise 0.3% and Germany's DAX 0.2%.

On Wall Street on Monday, the S&P 500 gained 0.17% and the Nasdaq Composite added 0.73% to a record closing high, although the Dow Jones Industrial Average fell 0.13%.

Notably, the world's five largest companies by market capitalisation – Apple, Alphabet, Microsoft, Amazon and Facebook – all hit intraday or closing highs.

"For those large shares to rally to record highs at the same time, you really need a big amount of money flowing in. It is fair to assume the money that was once staying in the bond markets is now going to hi-tech shares on back of their strong earnings," said Norihiro Fujito, senior investment strategist at Mitsubishi UFJ Morgan Stanley Securities.

The gains in hi-tech shares accelerated after strong earnings from Google, Amazon and Microsoft last week. Apple is due to report its results on Tuesday and Facebook on Wednesday.

In Asia, Samsung Electronics gained as much as 2.0% at one point, helping to lift Kospi index 0.7% to within reach of its all-time high marked in 2011.

Taiwan Semiconductor Manufacturing Co (TSMC) hit a record high, rising as much as 2.3%.

"The memory and the DRAM sector has seen huge consolidation globally. What that has meant is stronger pricing power," said Andrew Gillan, head of Asia ex-Japan equities at Henderson Global Investors.

"Earnings have been much stronger than expected in the memory sector."

In Hong Kong, Tencent gained 1.3% at most, hitting record highs.

Strong demand for various products related to the so-called Internet of Things (IoT), in which regular products are connected to networks, are supporting hi-tech demand, said Yukino Yamada, senior strategist at Daiwa Securities.

Worries about tensions over the Korean peninsula also eased slightly after U.S. President Donald Trump on Monday opened the door to meeting North Korea's Kim Jong Un, saying he would be honoured to meet the young leader under the right circumstances.

The CBOE Volatility Index, a barometer of expected near-term stock market volatility, closed at its lowest level since Feb 2007, suggesting investors' fears were easing.

In the foreign exchange market, diminishing risk aversion is helping the dollar to gain a foothold at one-month high of 112 yen. The euro was little moved at $1.0911, stuck in a well-worn range ahead of the second round of the French presidential election on Sunday.

The Australian dollar rose 0.2% to $0.7537, as Australia's central bank held rates steady for a ninth straight month in a widely expected decision.

The currency showed limited reaction to a private sector survey that showed growth in Chinese factory activity slowed to its weakest pace in seven months.

The factory survey echoed findings from China's official readings at the weekend which also showed the pace of growth was easing, but still solid. Most analysts attributed the softening to weaker prices for raw materials such as iron ore.

US economic data announced on Monday also fell short of expectations. US factory activity slowed in April, with ISM manufacturing activity index falling to 54.8 from 57.2 in March, an unexpectedly large retreat.

"Given that reading for March was really strong, you can say that it has become 'strong' from 'super-strong'," said Mitsubishi UFJ's Fujito.

US consumer spending was unchanged in March and a key inflation measure recorded its first monthly drop since 2001.

Still economists expect the Federal Reserve to raise interest rates in June as the labour market seems to be tightening.

Money market futures are pricing in about 70% chance in June. Virtually no one expects a rate hike in its upcoming meeting on May 2-3.

In the US bond market, the 30-year US Treasuries yield rose above 3% for the first time since April 10 after US Treasury Secretary Steven Mnuchin said the government is looking into the issuance of ultra long-term bonds, or those with maturities beyond 30 years.

Fear of more issues in those maturities lifted the yield spread between 10- and 30-year bonds to 0.69%age point, its highest since early December.

The 10-year yield stood at 2.327%, below a two-week high of 2.350% set on April 26.

Oil prices were under pressure as rising crude output on Libya and the United States outweighed OPEC-led production cuts aimed at clearing a supply glut.

Brent futures stood at $51.38 per barrel, down 14 cent, or 0.3%.