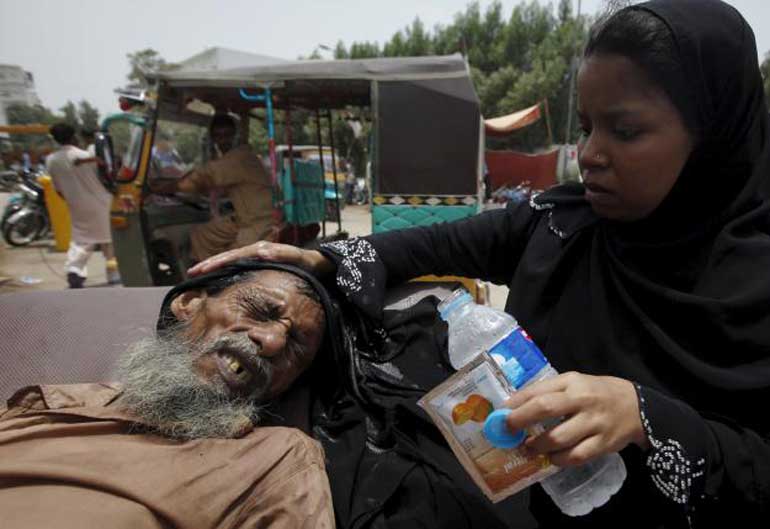 A woman (R) wets her burqa to cool her father's head outside the Jinnah Postgraduate Medical Centre (JPMC) in Karachi, Pakistan, 24 June, 2015 – REUTERS
Reuters: Pakistan's financial capital of Karachi is wilting in a four-day heat wave that has killed more than 780 people, a health charity said on Wednesday, as the government declared a holiday in the city to encourage people to stay home and cool off.

The heat wave has coincided with severe electricity cuts and the holy month of Ramadan, when most Muslims do not eat or drink during daylight hours. Many of the deaths, among the elderly and poor in the southern city, were caused by dehydration.

"The heat wave death toll has reached close to the 800 mark in the last four days," Anwar Kazmi, a senior official of the private charity, the Edhi Foundation, told Reuters.


"We are planning to expand the Edhi morgue to cope with a situation like this in future."

The charity runs a network of ambulances, clinics and morgues to bridge the gaps in an overburdened and poorly funded public health system in the city of 20 million people, home to Pakistan's main stock market, central bank and biggest port.

Government health officials did not return calls seeking comment.

Many of Karachi's wealthy have generators to run air conditioners or are gathering in upscale, air-conditioned malls to beat the heat, which reached 44 degrees Celsius (111 Fahrenheit) over the weekend.

A sea breeze slightly cooled parts of the city on Wednesday but rains predicted by weather officials did not arrive.

Many residents are furious with the civilian government over the electricity cuts and the poor state of the public hospitals treating many of those who have fainted from the heat.


Public services in Pakistan, a nuclear-armed nation of 190 million people, are starved of resources because almost all its wealthy evade taxes. Fewer than 0.5% of citizens pay income tax; many legislators are among the tax dodgers.

The military, which receives the lion's share of the budget, has set up 22 health centres, where it also hands out water and rehydration salts.