Reuters: The Greek stock market slumped when it reopened on Monday after being shut down for five weeks, while weak data from China helped push oil prices to their lowest in six months and Asian stocks close to their 2015 lows.

Surveys showed China's factory activity contracted by the most in two years, ensuring a three-month sell-off in commodity and emerging markets would continue.

Brent oil fell to $ 51 a barrel, its lowest since the end of January. Industrial metal copper dropped to its weakest in six years. Gold was $ 1,093 an ounce after its worst month in two years.

Europe was unsettled. Stocks in Athens plunged 17% when the market reopened after closing in late June. The euro and lower-rated government bonds also saw some mild selling.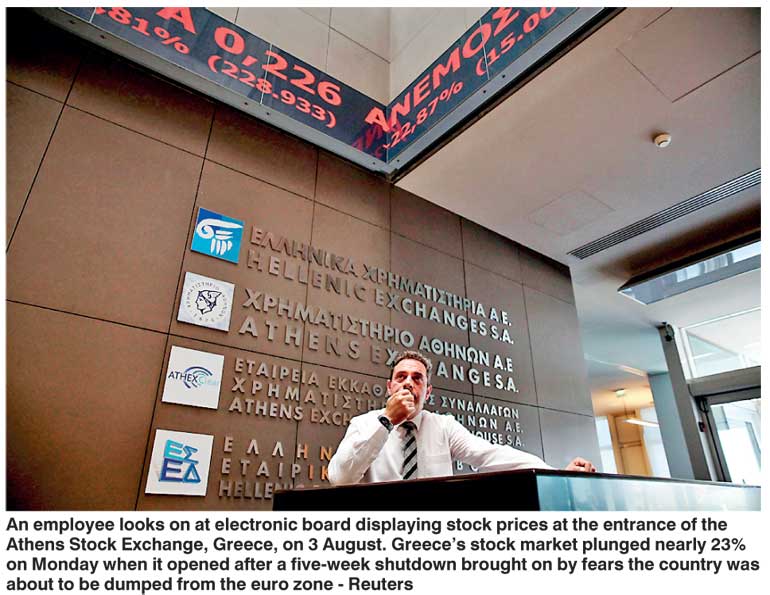 On the other hand, economic data was encouraging. Euro zone factory activity grew faster than previously thought in July. The Netherlands, Spain and Italy all reported healthy growth - Italy's expansion was its best in more than four years.

"Policymakers will be reassured by the robust growth rates seen in these countries and the resilience of the manufacturing sector as a whole," said Chris Williamson, chief economist at survey compiler Markit. "Especially as growth is likely to pick up again now that Greece has jumped its latest hurdle in the ongoing debt crisis,"

Upbeat results from HSBC, Commerzbank and Heineken also helped offset Greece's troubles.

The pan-European FTSEurofirst 300 was 0.5% higher by 1045 GMT. Gains of 0.7 and 0.6% in Frankfurt and Paris compensated for a 0.2% dip by London's FTSE as its mining companies and oil firms suffered again.

Wall Street was eyeing a flurry of manufacturing, consumption and inflation data for the latest reading of the US economy after weaker-than-expected wage data on Friday.

Futures markets were pointing to subdued start to August with 0.1 to 0.2% drops predicted for the main S&P 500, Dow Jones Industrial and Nazdaq markets.

China's poor data had made it another difficult day for Asian markets.

MSCI's broadest index of Asia-Pacific shares outside Japan fell more than 1% to take it close to early July's lowest level of the year.

Shanghai shares shed 1.1%, Japan's Nikkei slid 0.2% and South Korea's Kospi fell 1%. Australian stocks dropped 0.4%.

Net foreign selling from emerging Asia has reached nearly $10 billion over the past two months. Only India has seen minor inflows.

Russia's rouble racked up some of the biggest losses. It fell 1.4% to its weakest since mid-March following an interest rate cut last week and as oil -Russia's biggest export - slipped.

Among the main global currencies, the dollar began to firm again after sliding on Friday on the disappointing US wage growth data. It was last at 124.14 yen and $1.0970 to the euro.

Recent US economic data has undermined the dollar, but the broader trend has been to upwards, after the Federal Reserve last week left the door open for a rate increase in September.

The dollar has gained 7.75% so far this year against the world's main trading currencies, after a 12.8% rise last year.

And "the dollar's recent rally may just be getting started," according to research from the BlackRock Investment Institute.

"Since the 1970s when the Bretton Woods fixed-currency regime ended and currencies began floating, a typical dollar rally has lasted roughly six to seven years," said Russ Koesterich, BlackRock global investment strategist.