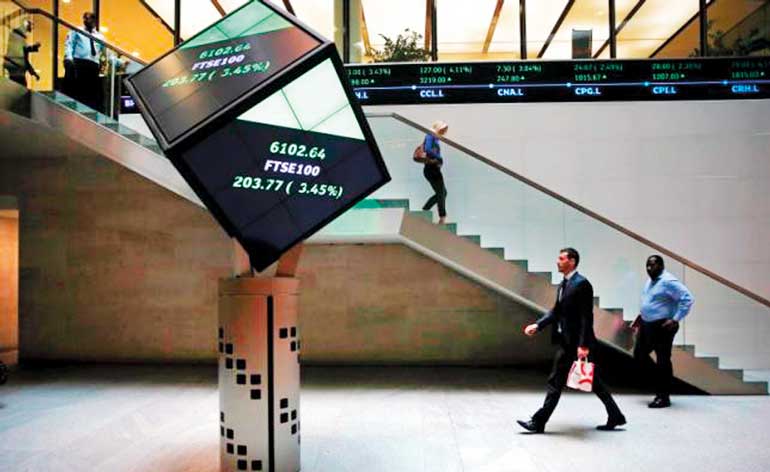 People walk through the lobby of the London Stock Exchange in London, Britain 25 August 2015
London (Reuters): Easing concerns over several major global risks helped stock markets rise robustly for a second day on Wednesday, underpinned by gains in oil and metals prices and data showing the U.S. economy can deal with a hike in interest rates.

Traders say several polls showing Britain will vote strongly to stay in the European Union in a referendum in June have done more than just support sterling, up 5% in trade-weighted terms from lows hit in April.

A new debt deal for Greece also looked to have headed off the risk of another round of uncertainty over its finances and even its future in the euro zone after a funding crisis a year ago, pushing European stock markets higher across the board.

"The agreement should ensure that Greece remains little source of negative headline risk throughout the rest of the year," Deutsche Bank analysts said in a note.

"The big question over the next 12 months is how quickly capital controls can be lifted and the economy can gradually return toward a path to normality."

Greek banks were up about 1%, while the European banking index rose 2%. Shares in Alpha Bank, Eurobank Erasias, Caxiabank and Deutsche Bank rose between 1.8% and 4.4%.

The chances of a June or July rise in U.S. interest rates, close to zero at the start of the month, have revived in the past 10 days, boosting the dollar and again raising the issue of how able financial markets globally are to absorb the increase.

MSCI's broadest index of Asia-Pacific shares outside Japan, however, rose 1.8%, their best one-day gain since late March. Japan's Nikkei closed up 1.6% as exporters got a boost from a weaker yen.

Hong Kong's Hang Seng index gained 2.4%, but China shares surrendered early gains and slipped into the red amid concerns about sluggish growth in the world's second-largest economy.

Policy sensitive two-year U.S. notes were yielding 0.9264 after rising to a 10-week high of 0.930%, and upbeat U.S. home sales supported the view that the economy there at least may be strong enough to deal with a rise in rates.

Several bookmakers shortened the odds on Britain voting to stay in the European Union to 1/7, indicating around an 85% chance of that outcome. Sterling touched a 3-week peak of $1.4665 in response, while implied volatilities on sterling options fell to their lowest in almost a month.

The dollar was steady against a basket of currencies, close to a two-month high.

"If the UK votes to remain it would give the green light for the Fed to resume rate hikes in July assuming that they haven't already raised rates before the referendum," said Lee Hardman, a currency strategist with Bank of Tokyo-Mitsubishi in London.

Many emerging market currencies felt the dollar's heat but the Turkish lira jumped 1.6% off near four-month lows on Tuesday after investor-friendly deputy prime minister Mehmet Simsek kept his post in the government.