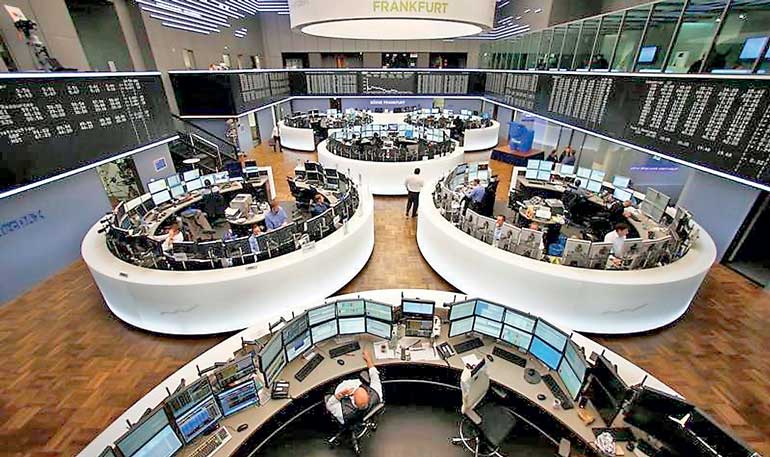 Reuters: World share prices fell on Tuesday, snapping their longest winning streak since February after Chinese trade data gave a further sign the world's economic growth engine is sputtering and a big fall in oil prices triggered profit-taking.

Chinese imports plunged 20% in September, casting doubt on the strength of domestic demand in the economy, while oil fell more than 5% overnight after a report that OPEC continued to boost production.

Those factors overshadowed a bumper corporate merger deal, which saw the world's largest brewer Anheuser-Busch InBev take over SABMiller in a cash and share package worth 68 billion pounds ($104.4 billion).

Bond yields and emerging market currencies fell too, while dimming prospects of a US interest rate hike this year pushed the dollar lower and lifted the euro above $1.14 for the first time in a month.

"Many countries ... rely heavily on sales to China so unless this demand picks up in the coming quarters, not only are we going to see below 7% growth in the world's second-largest economy, it's going to decline sharply for many of its trade partners as well," said Oanda Senior Market Analyst Craig Erlam in London.

The MSCI world share index fell 0.5%, its first fall in 10 sessions, ending the longest winning streak since February.

The FTSEuroFirst 300 index of leading European shares was down 1.4% at 1,409 points, Germany's DAX was down 1.5%, France's CAC 40 was down 1.9% and Britain's FTSE 100 was down 0.9%.

The ZEW survey for October from Germany, which will capture investor sentiment following recent market volatility and the US Federal Reserve's decision to stand pat on rates, could give European markets direction later on Tuesday.

In Asia earlier, MSCI's broadest index of Asia-Pacific shares outside Japan fell 1% from a two-month high touched on Monday, while Japan's Nikkei fell 1.1%.

Futures markets pointed to a fall of around 0.5% at the open on Wall Street ESc1.

The Dollar Yields

China's trade data for September showed a 3.7% fall in exports from the same period last year, less than the 6.3% drop forecast by economists in a Reuters poll. Imports, however, tumbled 20.4%.

The weakening economy prompted China's central bank on Monday to expand a scheme that increases banks' ability to lend, lifting mainland Chinese shares to seven-week highs.

On Tuesday, Shanghai shares .SSEC edged up around 0.2%. It was the index's fifth straight gain, a run not seen since July.

Oil prices recorded their biggest fall in six weeks on Monday after a report that OPEC continued to boost crude production triggered a wave of profit-taking from last week's 11-week high. Crude prices recovered some of that ground on Tuesday, with Brent futures up 1% in early European trade to $50.37 per barrel. The soft Chinese data and oil price weakness overnight were reminders that inflation is not a problem, which fed into the view that the Fed is in no hurry to raise rates.

Fed Governor Lael Brainard reinforced such expectations, saying late on Monday the Fed should hold off on any interest rate hike until it is clear that a global slowdown, difficulties in China, and other international risks will not push the US recovery off course.

The yields on 10- and 30-year US Treasury bonds fell 5 basis points to 2.04% and 2.87%, while benchmark German Bund yields were down around 1-2 basis points.

The dollar's value against a basket of six major currencies .DXY dropped to 94.5 on Tuesday, its lowest in almost a month, and the euro rose 0.5% to $1.1410.

"The drop in oil prices has taken Treasury yields back down again, and tightening in the Treasury/Bund spread encourages euro/dollar to probe the top of the current range - $1.1460 is the key level ... and a test looks likely," said Societe Generale currency analysts in a client note on Tuesday.

Commodity-linked currencies also slipped, with the Australian dollar falling 0.7% to $0.7311, off a two-month high of $0.7382 set on Monday.

Emerging market currencies also lost momentum after recent gains. The Indonesian rupiah and the Malaysian ringgit, big winners last week from broad relief rally in risk assets, both fell about 1%.