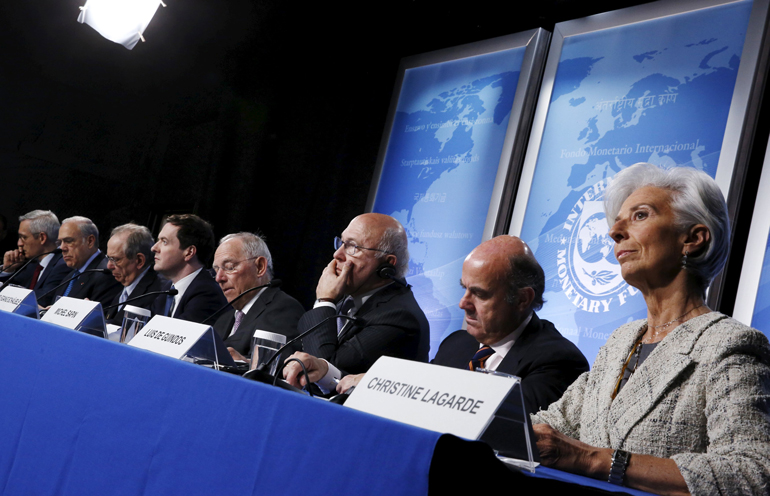 OECD Secretary General Jose Angel Gurria (from 2nd L-R), Italy's Finance Minister Pier Carlo Padoan, Britain's Chancellor of the Exchequer George Osborne, Germany's Finance Minister Wolfgang Schaeuble, France's Finance Minister Michel Sapin, Spain's Finance Minister Luis de Guindos and International Monetary Fund (IMF) Managing Director Christine Lagarde hold a news conference at the IMF/World Bank Spring Meetings in Washington April 14, 2016. Also pictured is the moderator, German Finance Ministry Spokesman Martin Jaeger (L) – Reuters
Reuters: World financial leaders sounded a sour note about the global economy last week, pointing to Britain's possible exit from the European Union as a serious threat alongside rising anti-trade sentiment and China's bumpy growth path.

Concern that British voters are edging closer to leaving the EU in a June 23 referendum has spooked finance ministers, central bankers and other officials gathered here for the International Monetary Fund and World Bank spring meetings.

IMF Managing Director Christine Lagarde signalled policymakers' heightened fears that a "Brexit" could derail Europe's shaky economic recovery and reverberate further afield.

"We have clearly elevated 'Brexit' as one of the serious downside risks on the horizon of global growth," Lagarde said in a press conference just two days after the IMF cut its 2016 global growth forecasts for the fourth time in less than a year.

Lagarde, who said it was her personal hope that Britain remained in the EU, predicted a divorce would lead to years of financial uncertainty.

EU Economic and Monetary Affairs Commissioner Pierre Moscovici chimed in at a separate event, describing the political repercussions of a British vote to leave the EU as "very bad news."

Their comments followed the Bank of England's clearest warning yet that Britain's economy would likely suffer and sterling would slide in the event that voters reject remaining in the EU.

Moscovici added that the near-term European growth outlook was already worsening.

"Overall, we now expect GDP growth in the first quarter of this year to have been positive but slower than we had expected," Moscovici said in a speech at the Peterson Institute for International Economics.

China's shadow

Lagarde also said the IMF was "concerned" about China following through on the restructuring of its struggling state-owned enterprises as the country shifts to slower, more sustainable growth driven by consumer spending.

China's slowdown from double-digit GDP growth a few years ago to the 6.5% growth forecast by the IMF this year has reduced demand for commodities and components worldwide, causing spillovers to emerging markets and advanced economies alike.

Lagarde added that a decision by Chinese authorities to eliminate some export subsidies to resolve a U.S. trade dispute was a step in the right direction.

She also unveiled the IMF's policy agenda, which pledged to provide more resources to help the Fund's 188 member countries boost growth and protect those vulnerable to a global slowdown and low commodity prices.

The IMF also vowed to ensure it had adequate funds to back its lending programs, and examine reforms including strengthening its lending toolkit and ties to regional lending institutions.

But differences over the European Central Bank's negative interest rate policy continued as Jeroen Dijsselbloem, who chairs the group of European finance ministers, warned that the measure was reaching its limits.

"Expansionary monetary policy... supports the economy in the short run, but the limitations are imminent and negative side-effects are becoming stronger," Dijsselbloem said in a speech to the Peterson Institute.

Negotiations over Greece's bailout program, officially on hold during the Washington meetings, also bubbled to the surface, with Lagarde promising the IMF would not walk away from the lending 'troika' that also includes the ECB and European Commission.

Lagarde has been pushing the idea of extending debt relief to Greece's government in exchange for fiscal reductions.

Argentine Finance Minister Alfonso Prat-Gay presented what may have been the one bright bit of news on Thursday, saying the country's impending debt issue, its first in more than a decade, was seeing "awesome" demand from investors.

Argentina's new right-of-centre government is pursuing a host of business-friendly economic reforms as it attempts to attract investors and re-establish itself in international markets.

Prat-Gay added that the government is making the curbing of the country's double-digit inflation rate a top priority.
World Bank to take lead on projects with China's AIIB: Kim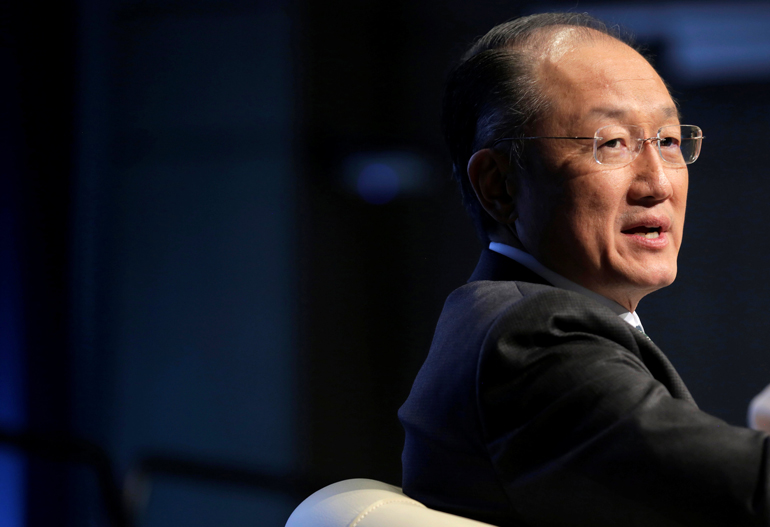 Reuters: The World Bank will likely take the lead on initial projects jointly financed with China's new Asian Infrastructure and Investment Bank, the head of the Washington-based multilateral lender said last week.

The two institutions on Wednesday signed a framework agreement to co-finance projects, and the World Bank said they were currently discussing nearly a dozen projects in sectors that include transport, water and energy in Central Asia, South Asia and East Asia.

AIIB, which was formally launched in January, expects to approve $1.2 billion in financing this year. The World Bank said joint projects will account for a sizeable share of that amount.

World Bank President Jim Yong Kim told reporters on Thursday that such financing projects require a massive amount of up-front preparation work, and the AIIB is still building up its capabilities.

"The AIIB is only now increasing their staff. So likely, the first projects will be that we do all of that project preparation, we do all the work that requires huge amounts of staff in a large and institutional infrastructure, and then they will simply co-finance," Kim said.

He said no decisions have been made on specific projects to jointly finance with the AIIB.

He noted that under the framework agreement, the jointly financed projects will use the World Bank's policies and procedures in areas such as procurement, environment and social safeguards.

The AIIB is expected to lend $10 billion to $15 billion annually within the first five or six years of operations.

The new bank, which signals China's growing economic clout, will provide an alternative to the World Bank and other Western-dominated multilateral investment banks.

Despite opposition from Washington, U.S. allies including Australia, Britain, German, Italy, the Philippines and South Korea have agreed to join the AIIB.