Reuters: World shares held near nine-month highs on Monday after G20 finance chiefs vowed over the weekend to use "all policy tools" to lift global growth.

Europe got off to a solid start, climbing almost 0.3% as takeover activity continued in the UK gambling sector and talk of record profits at Ryanair helped break some of the recent gloom around airlines.

Backsliding oil prices though held back commodity firms and emerging market stocks. MSCI's 46-country All World index couldn't push over peaks hit last week after some record highs on Wall Street.

While the weekend's signals from the G20 meeting in China were welcome, investors were bracing for a hectic week that includes a U.S. Federal Reserve meeting, European bank stress tests and what could be another super-sized slug of stimulus from Japan.

"I think everyone is range-trading at the moment and just waiting to see what the direction is," said TD Securities head of global research Richard Kelly.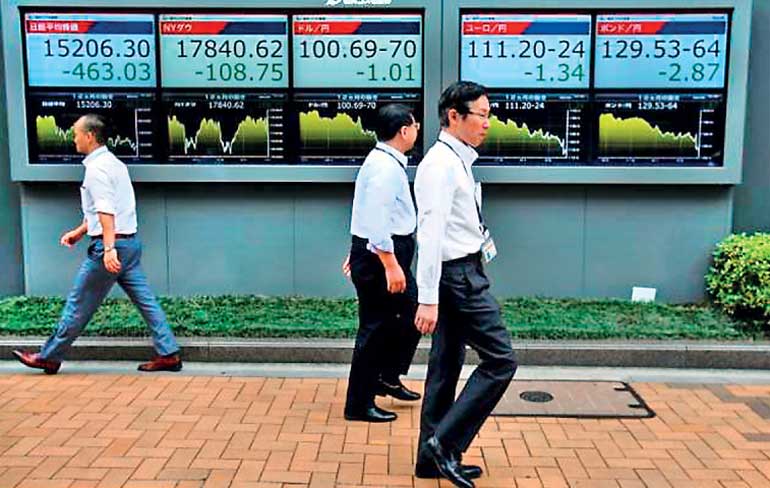 Passers-by walk past in front of electronic boards showing Japan's Nikkei share average (L), the Japanese yen's exchange rate against the U.S. dollar (C), British pound (R) and Euro (2nd R) outside a brokerage in Tokyo, Japan, 6 July


"The Bank of Japan is really the one that is front and centre this time with the all talk around 'helicopter money'," he added. "If they disappoint, which I think is probably more likely, then we are likely to see risk assets coming off."

Bank of Japan chief Haruhiko Kuroda had said at the weekend that he could ease policy further but also that there had been no discussion about "helicopter money" – radical money printing that aims to give cash directly to the population.

The yen was losing ground against the dollar JPY= though it was off last week's six-week low and the greenback struggled to make much of an impact against either sterling or the euro in early European trading.

The dollar's index against a basket of six major currencies hit a 4-1/2-month high of 97.543 on Friday. It last stood at 97.371.

"Dollar/yen could test the 108 handle if the Fed's comments this week are supportive towards a rate hike and if the BOJ eases," said Koji Fukaya at FPG Securities in Tokyo.

"On the other hand, the pair could drop below 105 if the BOJ stands pat as easing expectations are well entrenched."

In bond markets, euro zone yields held near post-Brexit lows for the most part.

Benchmark German 10-year yields were flat on the day at minus 0.08% and the Italian and Spanish equivalents were at 1.24 and 1.12% respectively, just a couple of points from multi-month lows.

As well as ongoing talk of central bank stimulus and low oil prices keeping down inflation, this week also sees a series of bond redemptions that will mean investors have cash to buy again.

Oil prices meanwhile hovered near 2-1/2-month lows having lost about 4% last week on renewed worries about a global crude glut.

Brent crude futures traded at $45.66 per barrel, down 0.1% and near Friday's low of $45.17, its lowest since May 11. Gold also struggled at it fell 0.5% to 1,316 an ounce.