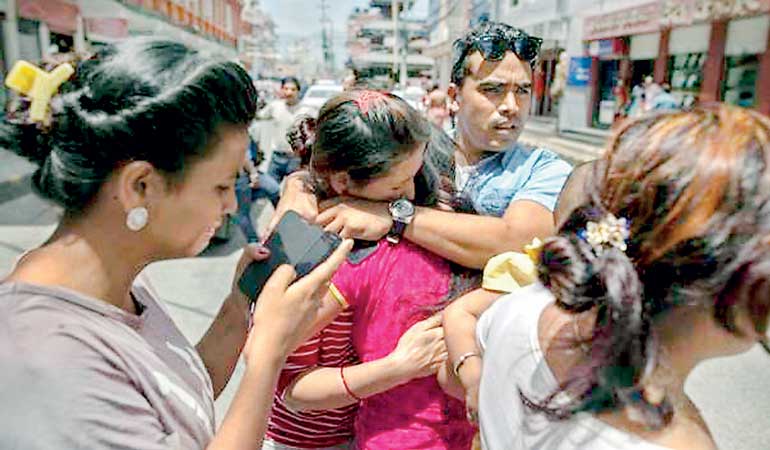 Local residents comfort each others during an earthquake in central Kathmandu, Nepal, 12 May, 2015 - REUTERS
Reuters: A 7.3 magnitude earthquake killed at least 37 people and spread panic in Nepal on Tuesday, bringing down buildings already weakened by a devastating tremor less than three weeks ago and unleashing landslides in Himalayan valleys near Mount Everest.

Most of the reported fatalities were in villages to the east of Kathmandu, only just beginning to pick up the pieces after the 25 April quake that left more than 8,000 people dead.

The new earthquake was centred 76 km (47 miles) east of the capital in a hilly area close to the border with Tibet, according to coordinates provided by the US Geological Survey. Aid workers reported serious damage to some villages seen from the air and witnesses reported seeing rocks and mud crashing down remote hillsides lined with roads and small hamlets.

Politicians dashed for the exit of Nepal's parliament building and office towers swayed as far away as central New Delhi. The tremors could be felt in Bangladesh and were followed by a series of powerful aftershocks.

Terrified Kathmandu residents crammed into public spaces, too nervous to venture inside.

Three students were injured in another town in the Everest region, locals said.

Residents in the Indian town of Siliguri, near the border with Nepal, said chunks of concrete fell off one or two buildings.

In Nepal the death toll reached 37, with 1,066 injured, police spokesman Kamal Singh Bam said.

Five people were killed in Indian states bordering Nepal, according to officials, and Chinese media reported one person died in Tibet after rocks fell on a car.

Nepal had barely begun to recover from the devastation caused by last month's 7.8-magnitude earthquake, the country's worst in more than 80 years, which killed at least 8,046 people and injured more than 17,800.

Hundreds of thousands of buildings, including ancient Hindu and Buddhist temples, were destroyed and many more damaged.

Mountaineers seeking to scale the world's tallest peak have called off this year's Everest season after 18 people died when last month's quake triggered avalanches on the mountain.

In Kathmandu, people panicked and rushed outdoors when the tremors began at around 12.30, Reuters witnesses said. The quake was followed by at least half a dozen aftershocks, including one as big as 6.3 magnitude.

Parents clutched children tightly, and hundreds of people frantically tried to call relatives on mobile phones.

Shopkeepers closed their stores and the streets were jammed with people rushing to check on their families.

Some foreign rescue teams have returned home from Nepal, but may need to be pressed into service again.