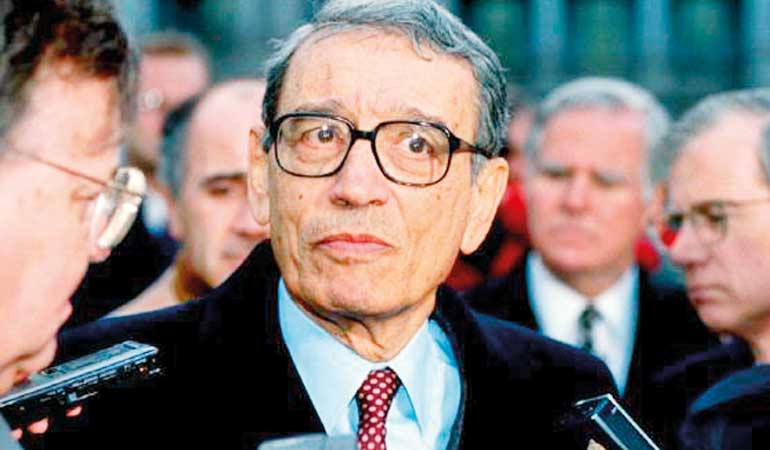 Reuters: Former UN Secretary-General Boutros Boutros-Ghali, a blunt-spoken Egyptian who led the world body through global turmoil as it defined its peacekeeping role and lost his job over disputes with Washington, died on Tuesday. He was 93.

Boutros-Ghali headed the United Nations from 1992-1996, chaotic years marked by war in the former Yugoslavia and famine and genocide in Africa. He died at Al Salam Hospital in Cairo on Tuesday, a hospital official said. Egypt's state news agency MENA said he had a broken leg and heart and kidney problems.

The 15-member UN Security Council observed a minute's silence after his death was announced.

UN Secretary-General Ban Ki-moon issued a statement praising Boutros-Ghali for leading the organisation through "one of the most tumultuous and challenging periods in its history."

"He showed courage in posing difficult questions to the member states and rightly insisted on the independence of his office and of the secretariat as a whole," Ban said.

Boutros-Ghali came from a wealthy family with an impressive political lineage and he bridged several realms. As an Egyptian, he was able to claim to be both Arab and African. He was a Coptic Christian from a mainly Muslim country and married an Egyptian Jew, who converted to his religion.

As the first post-Cold War secretary-general, Boutros-Ghali could be blunt and almost undiplomatic in dealing with critics and assessing the state of the world.

From the perspective of destitute Africans, he said, the situation in Yugoslavia looked like "the war of the rich." He said British media criticism of him might have been "because I'm a wog" – apejorative term dating to colonial times.

Boutros-Ghali was the United Nations' first secretary-general from Africa. He focused on the famine in Somalia and organised the first massive U.N. relief operation in the Horn of Africa nation.

Before the United Nations, Boutros-Ghali, whose grandfather was Egypt's prime minister until his assassination in 1910, had worked in the administrations of Egyptian presidents Anwar Sadat and Hosni Mubarak.