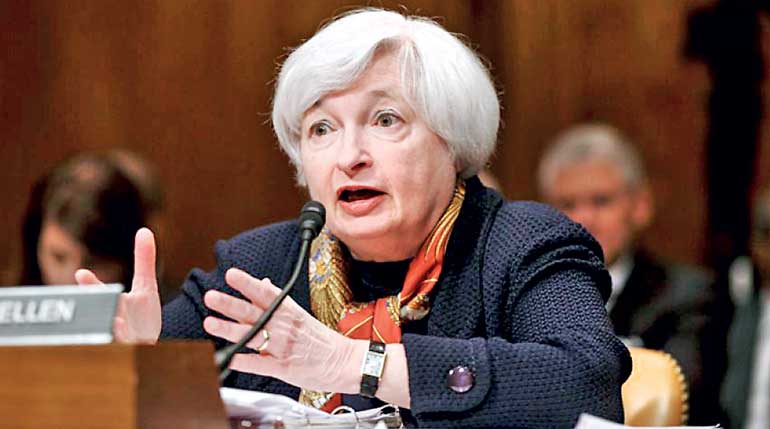 REUTERS: A handful of Federal Reserve policymakers on Tuesday jolted markets into higher expectations for a March US interest rate increase, with comments that suggested rate-setters are worried about waiting too long in the face of pending economic stimulus from Washington.

New York Fed President William Dudley, among the most influential US central bankers, said on CNN that the case for tightening monetary policy "has become a lot more compelling" since the election of President Donald Trump and a Republican-controlled Congress.

John Williams, president of the San Francisco Fed, said that with the economy at full employment, inflation headed higher, and upside risks from potential tax cuts waiting in the wings, "I personally don't see any need to delay" raising rates.

"In my view, a rate increase is very much on the table for serious consideration at our March meeting."

In remarks to a joint session of Congress, Trump offered little detail about planned tax cuts or new infrastructure spending beyond the broad strokes he offered during the election campaign – leaving policymakers with little to add to their analysis.

Williams, unlike Dudley, is not a voter this year on policy, but his views are seen as influential among his colleagues.

The comments sparked a flurry of selling in the bond market, with the two-year Treasury yield jumping to its highest level since December.

Interest rate futures implied traders saw a nearly a 57% chance the Fed would raise rates at its March 14-15 meeting, up from roughly 31% late on Monday, and around 20 percent a week ago, according to Reuters data.

Market expectations are likely to be shaped further this week when Fed Gov. Lael Brainard speaks on Wednesday in Boston and when Fed Chair Janet Yellen updates her views on the economy in a Chicago address on Friday. The Fed's next meeting is in two weeks.

The comments on Tuesday before Trump's speech included remarks from Philadelphia Fed President Patrick Harker calling for three rate hikes this year.

A counterpoint came Tuesday evening from St. Louis Federal Reserve President James Bullard, who feels only a single rate hike is needed this year and argued there is no need to anticipate the possible impact of tax and spending plans that are still not fleshed out and may take months to pass Congress.

"The idea of being preemptive would be overkill," in an economy with weak growth and no serious sign yet of a run-up in inflation, Bullard said.

It is possible, he said, that a well constructed tax plan could spur investment and productivity, and add to growth without the inflationary impact some Fed members fear.

A string of better-than-expected economic data including evidence that inflation, that has remained below a Fed target since 2008, was rising to a 2% target has raised expectations both inside and outside the Fed for rate hikes this year. The central bank has hiked rates only once in each of the last two years.

Dudley, a close ally of Fed Chair Janet Yellen and a permanent voter on policy, said we have seen a "very large" rise in household and business confidence and "very buoyant" financial markets since the November election, "and we have the expectation that fiscal policy will probably move in a more stimulative direction."

Williams said that raising rates in March, rather than waiting until June, gives the Fed room to raise rates this year more than the three times that most Fed policymakers currently feel would be appropriate.

Thomas Simons, senior money market economist at Jefferies, said in a note that for the normally dovish Dudley, "this is as hawkish and specific as you're going to get."

"All of this looks like a coordinated effort by Fed policymakers to raise expectations for a rate hike at the March meeting," Simons added.