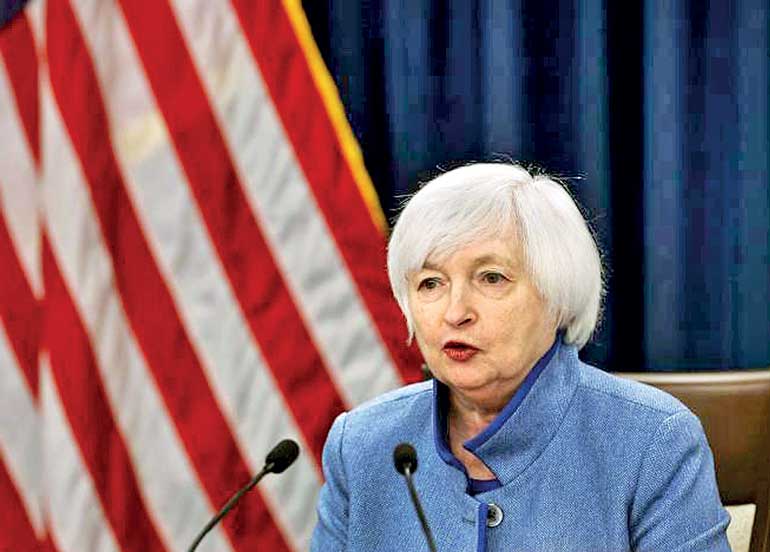 Washington (Reuters): The US Federal Reserve raised interest rates on Wednesday and signalled a faster pace of increases in 2017 as central bankers adapted to the incoming Trump administration's promises of tax cuts, spending and deregulation.

The increase in the federal funds rate to a range of between 0.50% and 0.75% was widely expected. But the prospect of a brisker monetary tightening contributed to a selloff in shorter-dated U.S. Treasuries and stocks.

In a news conference following the unanimous rate decision, Fed Chair Janet Yellen said Donald Trump's election had put the central bank under a "cloud of uncertainty" and already prompted some policymakers to shift their view of what's to come.

"All the (Federal Open Market Committee) participants recognize that there is considerable uncertainty about how economic policies may change and what effect they may have on the economy," Yellen said.

Though Trump's inauguration is still a month away, she said "some of the participants" had begun shifting their assumptions about fiscal policy. At least five of 17 Fed policymakers appeared to have boosted their interest rate outlook since September, according to the new "dot plot" of rate projections.

The Fed chief was peppered with questions about the president-elect, refusing to comment on his penchant for tweeting about companies or to give advice on how any fiscal, tax or trade plan should be structured.

"I am not going to offer the incoming president advice about how to conduct himself," Yellen said.

Trump, critical of Yellen during the campaign and considered likely to replace her when her term ends in early 2018, had not by late afternoon issued any comment about the Fed's rate decision, in line with his predecessors' practice.

Yields on shorter-dated Treasuries hit their highest levels in more than five years and U.S. stocks fell in choppy action. The dollar rose against a basket of currencies. Gold hit its lowest level in more than 10 months and oil prices also declined.

Partly as a result of the changes anticipated under Trump, the Fed sees three rate hikes in 2017 instead of the two foreseen as of September. Yellen called that a "very modest adjustment" driven also by strong job gains and evidence of faster inflation. Wednesday's rate increase should be "understood as a reflection of the confidence we have in the progress the economy has made," she said. Fresh economic forecasts, the first since Trump won the Nov. 8 election on promises of tax cuts and increased infrastructure spending, showed policymakers shifting their outlook to one of slightly faster growth, lower unemployment and inflation just under the Fed's 2% target.

The projected three rate increases next year would be followed by another three increases in both 2018 and 2019 before the rate levels off at a long-run "normal" 3.0%. That is slightly higher than three months ago, a sign the Fed feels the economy is still gaining traction. Markets and the Fed appeared to be close on their rate outlooks, with Fed futures markets pricing in at least two and possibly three hikes in 2017.

The Fed's policy statement "didn't mention the fiscal stimulus but typically their aggressiveness does indicate that there's a little more confidence that they can get away with three hikes next year," said Aaron Kohli, interest rate strategist at BMO Capital Markets.

The central bank continued to describe that pace as "gradual," keeping policy still slightly loose and supporting some further improvement in the job market. It sees unemployment falling to 4.5% next year and remaining at that level, which is considered to be close to full employment. The economy is projected to grow 2.1% in 2017, up from a previous forecast of 2.0%.

U.S. bond yields had already begun moving higher following Trump's victory and as expectations of the Fed rate increase solidified. All 120 economists in a recent Reuters poll had expected a rate hike on Wednesday.

In the weeks following the election, Fed policymakers have said Trump's proposals could push the economy into a higher gear in the short run. Even though the details of the Republican businessman's plans remain uncertain, Wednesday marked a rare case in which the Fed moved its interest rate outlook higher in the era after the 2007-2009 financial crisis.

Risks to the outlook remain "roughly balanced" between factors that could slow or accelerate the economy beyond what the central bank anticipates, the Fed said, no change from its assessment last month.

The rate increase was the first since last December and only the second since the crisis, when the Fed cut rates to near zero and deployed other tools such as massive bond purchases to stabilize the economy.