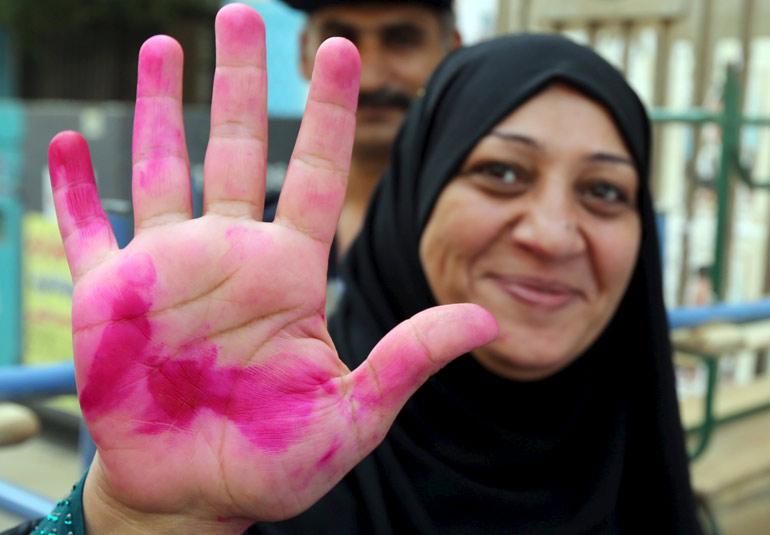 A woman shows the ink on her hand after voting during the first phase of the parliamentary elections at a polling station in Giza governorate, Egypt, October 18, 2015.
Egyptians began voting in a long-awaited parliamentary election on Sunday, the final step in a process that was meant to put the country back on a democratic course but which critics say has been undermined by state repression.

Egypt has had no parliament since June 2012 when a court dissolved the democratically-elected main chamber, then dominated by the Muslim Brotherhood, reversing a key accomplishment of the 2011 uprising that toppled Hosni Mubarak. Then army chief Abdel Fattah al-Sisi ousted elected President Mohamed Mursi of the Brotherhood the following year, banning Egypt's oldest Islamist movement and declaring it a terrorist organisation.

Egypt's constitution, passed by referendum before Sisi won a presidential vote in mid-2014, endows the new parliament with wide-ranging powers. On paper, it can reject the president's choice for prime minister or even impeach the president. But with Muslim Brotherhood leaders and youth activists at the forefront of the 2011 revolt behind bars, critics fear the elections will produce a rubber-stamp parliament.

In a televised speech on Saturday, Sisi called on all Egyptians to head to the ballot boxes and urged the armed forces and interior ministry to secure the voting process. "I call on you all, men and women, young and old, farmers and workers from all over the country to rally for the sake of the country... and choose well," he said.

Sisi secured support from other opposition groups for ousting Mursi by promising a prompt parliamentary vote. The elections, repeatedly postponed, will now take place over two rounds on Oct 18-19 and Nov 22-23.

This week, voters cast their ballots in 14 regions including Egypt's second city of Alexandria on the Mediterranean coast and Giza, a province which includes parts of Cairo west of the Nile.