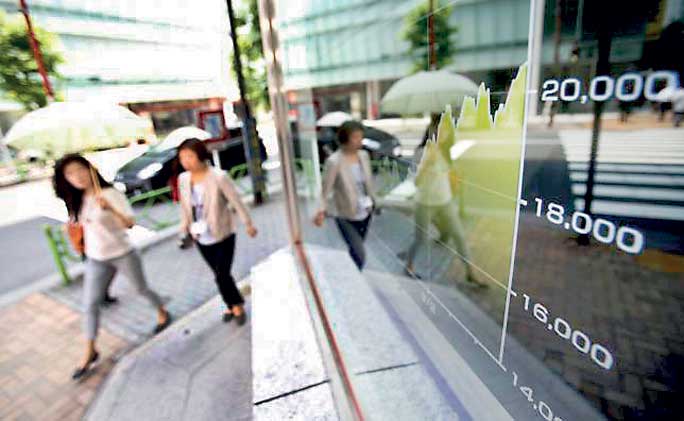 Pedestrians walk next to an electronic board showing the graph of the recent fluctuations of the Japan's Nikkei average outside a brokerage in Tokyo, Japan, 28 May – Reuters
TOKYO (Reuters): The dollar ascended to a new 12-1/2-year peak against the yen on Tuesday, while Asian shares fell for a second day as the stronger greenback pressured commodity prices.

But financial spreadbetters predicted a brighter day in Europe, with Britain's FTSE 100 and Germany's DAX both seen opening up as much as 0.2%, and France's CAC 40 as much as 0.3%.

"Ahead of European trade we are calling the major bourses firmer, with Greece headlines likely to remain the dominant theme," IG market strategist Stan Shamu wrote in a note.

The dollar rose as high as 125.07 yen, its loftiest since late 2002, before retracing to stand at 124.66 yen, down about 0.1% on the day, after a spate of mostly upbeat US data reinforced expectations that the Federal Reserve would raise interest rates this year.

"The rise in the dollar against the yen has been steep but sentiment favours testing new highs rather than consolidating," said Kyosuke Suzuki, director of forex at Societe Generale in Tokyo.

MSCI's broadest index of Asia-Pacific shares outside Japan was down about 0.8%, falling for the second day and touching its lowest intraday level since 3 April, while Japan's Nikkei stock index erased earlier gains and slipped 0.1%, snapping its 12-day winning streak that was the longest since February 1988.

Australian shares skidded about 1.7%, pressured by weaker commodities.

The Reserve Bank of Australia kept rates on hold at a record low of 2.0% at its latest policy meeting on Tuesday as expected, but the Australian dollar surged more than 1% on the day after the RBA did not include an explicit bias to ease again.

On Wall Street on Monday, US stocks began the month with modest gains after the data. Consumer spending remained flat in April, but construction spending and manufacturing gained momentum, backing the view that the US central bank is on track to begin to hike rates later this year.

The economic reports helped US Treasury yields rise to one-week highs, giving the greenback a lift. In Asian trading on Tuesday, the yield on benchmark 10-year notes stood at 2.186%, not far from the US close of 2.192% on Monday.

Boston Fed President Eric Rosengren, who is not a voting member of the Federal Open Market Committee, said on Monday he would like to begin raising rates as soon as possible, but also noted risks from the slowdown in China and Europe and the fact that US growth is still not strong enough.

Market participants awaited Friday's US nonfarm payrolls report for a further gauge of the strength of employment conditions. The report is expected to show 225,000 jobs created in May, according to a Reuters poll of economists.

Uncertainty about the outcome of Greece's financial negotiations continued to weigh on the euro, though hope for a resolution underpinned the common currency. It was last up about 0.2% at $1.0945.

The leaders of Germany, France, the International Monetary Fund, the European Central Bank and the European Commission agreed at a meeting late on Monday to stay in close contact in the coming days to work on Greek debt negotiations, as Athens and its lenders struggled to reach deal that would prevent the country from defaulting on its debt.

Greece is due to make a 300-million-euro repayment to the IMF on Friday.

The euro was also pressured by business surveys that showed European manufacturing activity remained even more sluggish than its plodding global counterparts.

An index tracking the dollar against a basket of six rival currencies edged down 0.1% on the day, to 97.271.

The bleak global factory outlook combined with the firmer dollar to hit prices of dollar-denominated commodities, though they steadied in late Asian trade.

Copper erased losses and added about 0.2% to $6,034 a metric ton, moving away from a six-week low of $5,985 hit on Monday.

US crude oil futures were last up about 0.2% in Asian trading at $60.33 a barrel, after plunging more than 1% at one point on Monday. Brent crude futures also added about 0.2% to $65.00.