US Secretary of State, John Kerry (C) yawns as he sits next to British Prime Minister, David Cameron (L) and Colombia President Manuel Santos (R) during the Anti-Corruption Summit in Lancaster House in London, Britain, 12 May - REUTERS
Reuters: Countries from Britain to Afghanistan pledged on Thursday to set up public registers of company ownership in a collective effort to make it harder to launder the proceeds of corruption around the globe.

Prime Minister David Cameron announced the measure at the start of a global anti-corruption summit he is hosting in London, but critics said the proposed registers may not make a meaningful impact unless tax havens ended secrecy as well.

The build-up to the event was marred by Cameron being caught on camera describing Nigeria and Afghanistan, which are both taking part, as "fantastically corrupt", but he later said that the leaders of both countries were tackling the problem.

U.S. Secretary of State John Kerry, addressing a plenary session at the summit, said that corruption was as much of an enemy as some of the extremists Washington was fighting.

"It is a contributor to terrorism in many different ways and the extremism that we see in the world today comes to no small degree from the utter exasperation that people have with the sense that the system is rigged," Kerry said.

"We see this anger manifesting itself in different forms in elections around the world, including ours," he said, alluding to the unexpected success of Republican Donald Trump and Democrat Bernie Sanders in the U.S. presidential primaries.

France, the Netherlands, Nigeria and Afghanistan would join Britain in launching public registers of true company ownership, Cameron's office said. Kerry said the United States had already announced steps to improve transparency on business ownership.

More could follow in the course of the summit.

Cameron's office said that any foreign company that owns a property in Britain or wants to buy one or to bid for a central government contract would have to join the new register.

The aim is to expose those who hide behind obscure shell companies to own properties, a particularly acute problem in London which has been hit by repeated scandals involving luxury homes owned by corrupt foreign politicians and businesspeople.

PANAMA PAPERS

Some critics said the impact of the registers might be limited unless tax havens were persuaded or forced to also open up about who owned offshore-registered companies.

"I can't tell until I've seen the detail whether this is a PR stunt or a serious policy which will reveal the true ownership of properties here in the UK," said Margaret Hodge, a member of parliament from the opposition Labour Party who specialises in these issues.

The release of the "Panama Papers", leaked documents from law firm Mossack Fonseca, put tax avoidance at the top of the global agenda by showing the extent to which tax havens were used by politicians and businesspeople from around the world.

Anti-corruption protesters who gathered close to the summit venue, some dressed as bankers with bowler hats reclining on deck chairs as they fanned themselves with banknotes, said what was needed was an outright abolition of tax havens.
---
New Zealand Prime Minister Key thrown out of parliament
Reuters: New Zealand's Prime Minister, John Key was thrown out of parliament on Wednesday (May 11), after being asked to apologise over Panama Papers claims by Greens co-leader, James Shaw.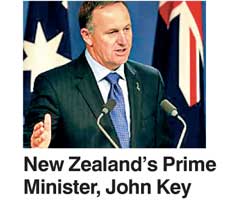 During the session in the House of Representatives, Shaw asked Key: "Why will he not apologise to Greenpeace International and Amnesty and Mojo Mathers for misrepresenting them in the house yesterday?"

"Mr Speaker, I haven't misrepresented Greenpeace, they are in the database as a beneficiary of the Exodus Trust. I don't like the fact they're there, but they are there, so in what way have I misrepresented them? I think the member should do this, I think he should get on his feet and say 'John, on Saturday night, I went on TV," answered Key. The Speaker of the House, David Carter then intervened attempting to bring the house to order.

"Order, order, the Prime Minister will resume his seat. Order, order, the Prime Minister will leave the chamber.

"When I stand to my feet, it happened yesterday, I gave him fair warning. When I stand to my feet and call for order, he is to be treated no differently than any member of this house," said Carter to the house. "The Prime Minister will leave the chamber."

Prime Minister Key then left the house.

The New Zealand government said last month it would begin a review of its foreign trust laws after the Panama Papers highlighted vulnerabilities in its legal framework that made it a possible link in international tax avoidance structures because its foreign trusts are not subject to tax.
---
Australian PM Turnbull named in Panama Papers, denies wrongdoing
Reuters: Australian Prime Minister Malcolm Turnbull on Thursday denied any wrongdoing after being been named in the Panama Papers as a former director of a British Virgin Islands company set up to exploit a Siberian gold prospect.

Turnbull and former New South Wales Premier Neville Wran joined the board of Australian-listed Star Mining NL in 1993. The company hoped to develop a A$20 billion ($14.67 billion)Siberian gold mine called Sukhoi Log, according to the Australian Financial Review, which first reported the story.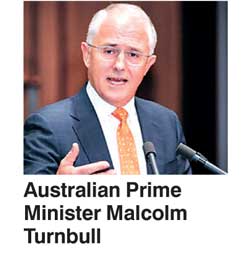 Both Turnbull and Wran were subsequently appointed directors of Star Technology Services, a subsidiary of Star Mining in the British Virgin Islands which had been incorporated by Mossack Fonseca, the Panama-based law firm at the centre of the global scandal.

"There is no suggestion of any impropriety whatsoever. There is nothing new there," Turnbull told reporters.

"The company of which Neville Wran and I were directors was an Australian listed company and had it made any profits - which it did not, regrettably - it certainly would have paid tax in Australia."

The details are included in documents obtained by the International Consortium of Investigative Journalists known as the Panama Papers but are not part of the publicly searchable database. Tax havens and transparency have been thrust into the spotlight as governments worldwide launch probes into possible financial wrongdoing after the details of hundreds of thousands of clients' tax affairs were leaked from Mossack Fonseca.

Turnbull, a former investment banker and technology entrepreneur, is campaigning ahead of a general election on 2 July, with his ruling Liberal-National coalition in a virtual tie with the main opposition.