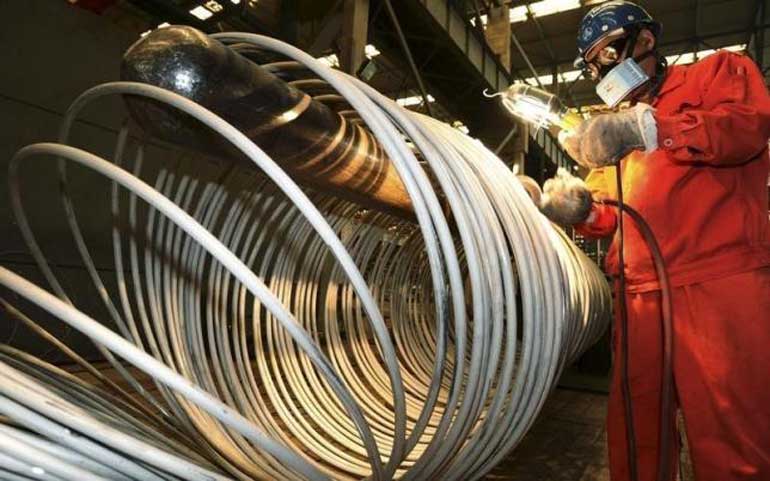 A worker polishes steel coils at a factory of Dongbei Special Steel Group Co., Ltd., in Dalian, Liaoning province, China, 1 September, 2015 – REUTERS
Reuters: Activity in China's manufacturing sector unexpectedly contracted in October for a third straight month, an official survey showed on Sunday, fuelling fears the economy may still be losing momentum in the fourth quarter despite a raft of stimulus measures.

Adding to those concerns, China's services sector, which has been one of the few bright spots in the economy, also showed signs of cooling last month, expanding at its slowest pace in nearly seven years.

As the first major indicators of business conditions in China released each month, the PMIs reinforced the view that the economy remains in the midst of a gradual slowdown which will require Beijing to roll out more support in coming months.

"While the PMI has stabilised, it is too early to confirm a bottoming out," economists at ANZ Bank said in a note.

"As deflation risks intensify, a further RRR cut before end of this year is still possible," ANZ said, referring to reducing the amount of reserves that banks must hold in order to free up more funds for new loans.

The official Purchasing Managers' Index(PMI) was at 49.8 in October, the same pace as in previous month and lagging market expectations of 50.0, according to the National Bureau of Statistics(NBS). A reading below 50 points suggests an contraction.

New export orders contracted for a 13th straight month, though the sub-index for new orders - a proxy for both domestic and foreign demand - edged up marginally to 50.3, compared with September's 50.2.

Faced with persistently weak demand, factory owners continued to lay off workers and at a slightly faster pace than in September.

"Because of the recent weak recovery in the global economy and downward pressure in the domestic economy, manufacturers still face a severe import and export situation," Zhao Qinghe, a senior statistician at the NBS said in a statement accompanying the data.

Major Chinese construction machinery maker Sany Heavy Industry Co Ltd said on Friday it swung to a loss in the third quarter, affected by a glut of unsold equipment.

As for the services sector, whose growth has helped offset persistent weakness in manufacturing, the official non-manufacturing PMI fell to 53.1 in October from September's 53.4. Though still a solid pace of expansion, it was the lowest reading since late 2008 during the global financial crisis, a similar survey showed.


Small firms facing bigger stresses

Despite authorities' most aggressive policy easing campaign since the 2008/09 global crisis, small- and mid-sized Chinese firms are still starved for funds due to banks' preferences to lend to big, state-owned companies.

Activity in small and mid-sized firms continued to contract in October, with more small firms seeing fund shortages compared to big ones, the official survey showed. Small companies account for up to 80 % of urban employment and 60% of China's GDP.

China's economy grew 6.9% between July and September from a year earlier, dipping below 7% for the first time since the global financial crisis, though some market watchers believe real growth rates are much weaker than Government figures suggest.

Chinese leaders have been trying to reassure jittery global markets for months that the economy is under control after a shock devaluation of the yuan and a summer stock market plunge fanned fears of a hard landing.

The Government has cut interest rates six times since November and lowered the amount of cash that banks must hold as reserves four times this year. The latest cut in interest rates and banks' reserve requirement came on 23 October.

Beijing has also quickened spending on infrastructure and eased curbs on the ailing property sector. The latter have helped revive weak home sales and prices but have not yet reversed a sharp decline in property investment.

Many economists had expected economic growth would bottom out in the third quarter, with a modest improvement late this year and into early 2016 as additional stimulus measures gradually take effect.