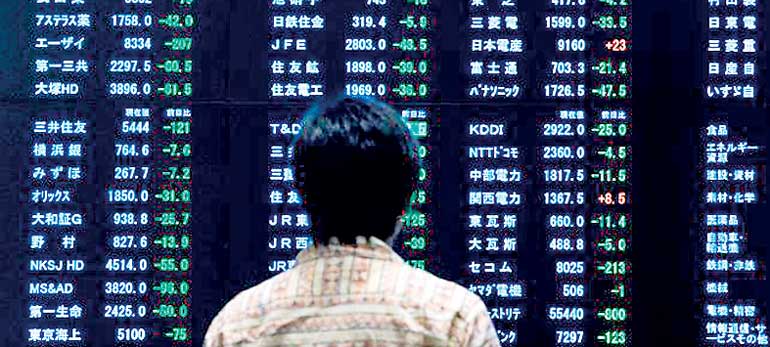 Asian shares rose on Tuesday after Chinese stocks broke a punishing three-day losing streak, but gains were capped by fears they could go into freefall again and as investors nervously awaited further developments in the deepening euro zone crisis.

With a Greek debt default feared within hours and wild volatility in China, European stocks markets were expected to extend Monday's losses and few players were willing to buy the euro common currency.

Financial spreadbetters expect Britain's FTSE 100 to open down 0.5%, Germany's DAX 0.7%, and France's CAC 40 0.6%.

"There is still too much uncertainty in the markets and investors would be watching developments in Greece and China very carefully before jumping in," said Karine Hirn, Hong Kong-based partner of Swedish group East Capital, a $ 3.5 billion fund management firm.

"Chinese authorities wouldn't want to trigger a meltdown which would spook investors and we may see more market stabilising measures on the way," she said.

Volatility in China's stock market in recent days has rippled through Asia, weighing on stock markets from Mumbai to Australia, and prompting investors to rush to the sidelines.

Chinese stocks rallied more than 5% on Tuesday afternoon after falling nearly 5% in early trade, as the government and regulators stepped up efforts to prevent a plunge of 20% in the last few weeks from inflicting further damage on the already slowing economy.

MSCI's broadest index of Asia-Pacific shares outside Japan rose 1.5% but remained near a five-month low hit on Monday. Japan's stock index rose 0.6% while Korea gained 0.7%.

Over the weekend, China cut interest rates and lowered reserve requirements to stabilise markets – a rare combination not seen since the depths of the 2008 financial crisis. In fresh steps, authorities are also preparing to allow pension funds to invest in the stock market for the first time.

Notwithstanding the flurry of measures taken by Beijing, high-yielding currencies such as the Australian dollar remained out of favour as investors sought refuge from the heightened market volatility in safe-haven assets.

A risk gauge, the CBOE Volatility index, spiked overnight to its highest levels not seen since February.

"Yesterday, we saw dip buying in the euro by a lot of players. Today we don't see any," said Masatoshi Omata, senior client manager of market trading at Resona Bank.

Greece will not pay a 1.6 billion euro loan instalment due the International Monetary Fund on Tuesday, a Greek government official told Reuters, after talks between Athens and its creditors broke down over the weekend when Prime Minister Alexis Tsipras called a surprise referendum on the austerity plan.

Ratings agency Standard and Poor's cut Greece's sovereign debt rating one notch further into junk levels to CCC-, saying there was a 50% probability it would leave the euro zone.

In overnight trading on Wall Street, all three major stock indices tumbled, with the Dow Jones industrial average shedding 1.95%, the S&P 500 losing 2.09% and the Nasdaq Composite dropping 2.4%.

US stock futures were up 0.3% in Asian hours on Tuesday.

While the euro picked itself off a four-week low of $ 1.0955 struck overnight, it remained closeted in a narrow range in Asian time as investors waited for further developments. It was last changing hands at $ 1.1192 per dollar.

The greenback's fortunes in Asia were dented as investors sought safety in the Japanese yen and US government debt, which in turn hurt the dollar.

The dollar was broadly flat on the day at 122.32 yen after falling to a one-month low of 122.10 yen on Monday, with market participants citing options-related support at 122.

In bond markets, 10-year benchmark US debt was trading at 2.32% while its Japanese counterparts held firm at 0.45%.

In commodities markets, US crude oil futures extended their fall after skidding more than 2% on Monday to three-week lows. US crude was down about 0.1% at $58.03 a barrel.