China has established a fund that is expected to raise about $ 16 billion for gold-related investment as part of its 'Silk Road' initiative to develop trade and transport infrastructure across Asia and beyond, official media reported.

The fund, which will be run by a new company to be set up by gold producers and financial institutions, is expected to raise an estimated 100 billion yuan ($ 16.13 billion) in three phases, Shanghai Securities News reported at the weekend.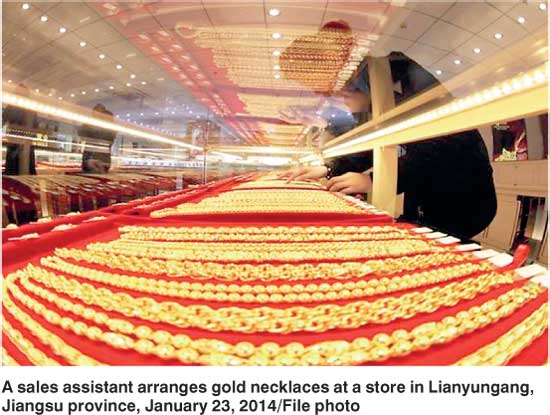 Two leading gold producers, Shandong Gold Group, the parent of Shandong Gold Mining Co Ltd. (600547.SS), and Shaanxi Gold Group will take stakes of 35% and 25% respectively, with the rest owned by financial institutions, the newspaper said.

The fund's activities could take in the launch of gold-backed exchange-traded funds and buying stakes in listed gold companies and mining firms.

President Xi Jinping said earlier this year that he hoped annual trade with the countries involved in Beijing's plan to create a modern Silk Road would surpass $ 2.5 trillion in a decade.

China is the world's biggest producer of gold and a top consumer of the precious metal.

In 2014 it was the second-biggest consumer of gold jewellery, bars and coins and it took first place from India in the first quarter of this year, according to the World Gold Council.
Gold eases as Yellen comments shore up dollar
Gold prices were marginally lower on Monday, as the dollar gained traction against major currency rivals, on signs the Federal Reserve is preparing to tighten monetary policy for the first time in six years in 2015.

Fed Chair Janet Yellen indicated on Friday that the U.S. central bank was poised to raise rates this year, with the world's largest economy set to bounce back from an early-2015 slump.

Higher U.S. interest rates increases the opportunity cost of holding non-yielding bullion.

Spot gold was down 0.1 percent at $1,205.06 an ounce by 1339 GMT, but held above a near-two-week low of $1,201.20 hit in the previous session. It posted its biggest weekly drop in a month last week, down 1.4 percent.