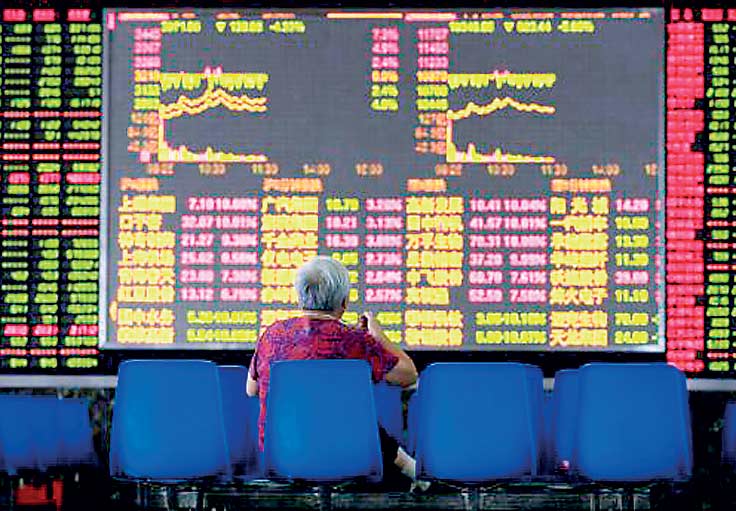 Reuters (London): World stocks and commodity prices tumbled on Tuesday, as poor Chinese data saw fears about its economic health intensify.

After a relatively upbeat few days for world markets, concerns about China were reignited by surveys that showed its giant manufacturing sector shrinking at its fastest pace in three years and its services sector also cooling.

Asian stocks, particularly in Japan and Australia, had swooned overnight, and the gloomy mood remained in Europe as the pan-regional FTSEurofirst 300 opened down 2.5% after its worst month in four years.

London, Frankfurt and Paris were down 2.3 to 2.5% and oil was also back in the red as it cut almost $1.5 off the $10 it had leapt between Thursday and Monday, which had been its biggest three-day surge in 25 years.

"The problem is that we have these brief spells of optimism like we had last week when US GDP was revised up, but the overall theme is still the weakness in China and that is very hard to dispel from markets," said Philip Marey, a strategist at Rabobank in the Netherlands.

US stock futures were also down 1.5%, while the mood was similarly wary in the currency and bond markets.

The safe-haven Japanese yen and the low-yielding euro, which has also been back in favour following its recent Greece-related falls, both rose against the dollar, to 120.16 yen per dollar and $1.1323 to the euro.

Gold, another favourite of investors during periods of uncertainty, was up at $1,141 an ounce having risen 3.5 in August, its best month since January

The head of the International Monetary Fund, Christine Lagarde, summed up the situation saying in a speech in Indonesia that global economic growth was now likely to be weaker than had been expected just a few months ago.

She cited both a slower recovery in major advanced economies and a further slowdown in emerging nations and highlighted the need to "be vigilant for spillovers" from China's stutters.

"The transition (in China) to a more market-based economy and the unwinding of risks built up in recent years is complex and could well be somewhat bumpy," she added.

The latest bout of volatility had been kicked off by losses on Wall Street overnight after comments from Federal Reserve Vice Chairman Stanley Fischer appeared to keep alive the chances of a US interest rate hike in September.

China's official Purchasing Managers' Index (PMI) then compounded matters, falling to 49.7 in August from the previous month's reading of 50.0, its weakest showing in three years.

"Recent volatilities in global financial markets could weigh on the real economy, and a pessimistic outlook may become self-fulfilling," said He Fan, chief economist at Caixin Insight Group. A separate survey from Fan's organization had also shown the country's services sector slowing.

MSCI's broadest index of Asia-Pacific shares outside Japan slipped 0.6% to extend the more than 10% it had lost in August.

Chinese shares had remained relatively steady, with the Shanghai Composite Index down a modest 1.2% and the CSI300 index almost flat.

Instead the pain was felt elsewhere. Japan's Nikkei slumped 3.8% after tanking 8.2% in August. Australian, Indonesian and Hong Kong stocks were all down by more than 2%.

Metals markets were straining again too. London Metal Exchange copper fell 1% to $5,087.50 as markets reopened after a long bank holiday weekend, nickel slid 2% while aluminium and tin skidded too.

One of the other recent victims of the China jitters, the Australian dollar, edged up however, adding about 0.2% to $0.7125 after the Reserve Bank of Australia held Aussie interest rates steady.