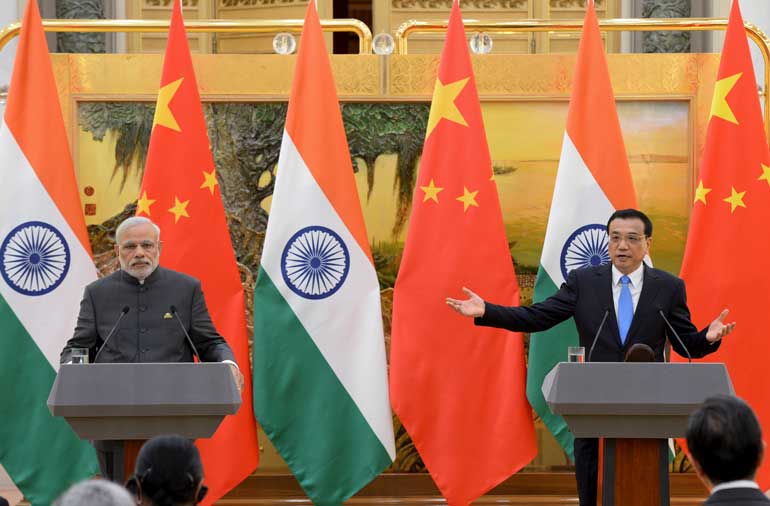 Indian Prime Minister Narendra Modi (L) and Chinese Premier Li Keqiang attend a news conference at the Great Hall of the People in Beijing, China, 15 May, 2015-REUTERS
China and India proposed measures on Friday to resolve a long-festering border dispute, as Beijing sought to clear obstacles to a relationship that it said could change the international political order.

Chinese Premier Li Keqiang met Indian Prime Minister Narendra Modi in Beijing, the second leg of his three-day trip to China during which both sides have pledged to boost cooperation between the two Asian giants.

"We have the ability to make the global political and economic order move in a more just and balanced direction," Li said.

The two countries agreed to start annual visits between their militaries, expand exchanges between the border commanders and start using a military hotline that has been discussed in recent years to defuse flare-ups on the border, according to a joint statement.

Tensions rose between China and India last year over the disputed border. China lays claim to more than 90,000 sq km (35,000 sq miles) ruled by New Delhi in the eastern sector of the Himalayas. India says China occupies 38,000 square km (14,600 sq miles) of its territory on the Aksai Chin plateau in the west. India is also suspicious of China's support for India's arch-rival, Pakistan.

"We both believe in maintaining the momentum of talks between special representatives on the border issue in seeking a plan for resolution that is fair and reasonable," Li told reporters.

In a reminder of the underlying tensions between the two countries, Modi said he "stressed the need for China to reconsider its approach on some of the issues that hold us back from realising full potential of our partnership".

The world's two largest countries by population also discussed ways to tackle climate change. China and India are the world's No.1 and No.3 emitters of carbon dioxide.

More than 20 agreements have been signed for cooperation in areas such as railways and clean energy technologies.

The desire to realise what both sides call 'the Asian Century' is driving much of the goodwill. On Thursday, Chinese President Xi Jinping urged Modi to 'realise the strategic needs for our national rejuvenation' and 'work together to promote the international order in a more just and fair direction'.

Modi told reporters that 'the re-emergence of India and China and their relationship' would have 'a profound impact on the course of this century'.

Behind the apparent detente is a push by Xi to invoke nationalistic themes to win public support as he seeks to boost China's role as a bigger player in international politics. His remarks also appear aimed to appeal to Modi, who believes in a strong and proud India.

The Global Times, an influential tabloid owned by the ruling Chinese Communist party mouthpiece the People's Daily, said in an editorial that 'it is obvious that the Western elite doesn't want to see India and China drawing closer to each other, because it will confront their vision for Asia's future'.
India, China leaders try hand at "selfie" diplomacy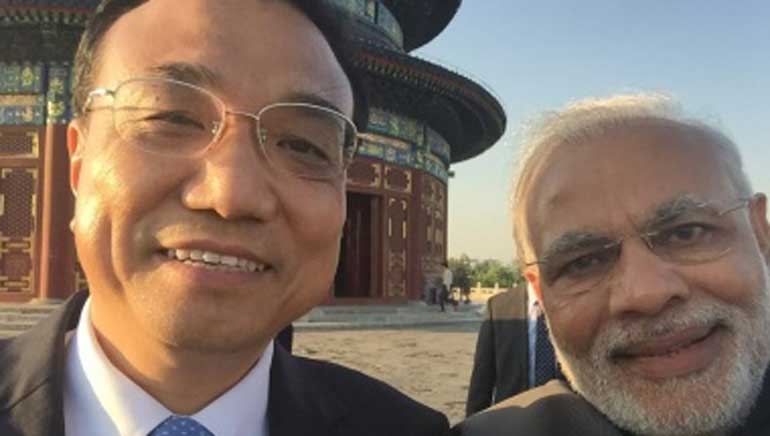 BEIJING(Reuters): In a rare show of everyman charm from one of China's most elite politicians, Premier Li Keqiang appeared in a grinning selfie with visiting Indian Prime Minister Narendra Modi on Friday.

Modi, who is visiting China this week to boost economic ties and discuss a persistent border dispute, is known for being at ease with social media, including a large follower base on Twitter.

But such spontaneous displays online are rare for leaders in China, where discussion of politicians' personal lives is taboo and details such as their exact birthdates are considered a state secret.

The selfie, which shows the leaders at a historical site smiling shoulder to shoulder, with Li squinting slightly in the sunlight, was posted on Modi's Chinese microblog account.

He spent the day in talks with Li during his three-day trip and is set to travel to the economic powerhouse of Shanghai on Saturday.

Modi set up an account on the microblogging site Weibo, China's answer to Twitter, ahead of his trip, prompting a flurry of mostly sceptical messages from the Chinese public.

China's leadership has experimented with more unscripted interactions in recent years. President Xi Jinping surprised residents near a popular Beijing shopping street when he took a stroll there last February.

He also astonished customers at a modest steamed bun shop by turning up, paying for his own food and making small talk with other patrons.

Many Weibo users reacted with delight to the two leaders' selfie, with messages like "cute premier!"

Others wondered why China's own leaders had no social media presence.

"Wouldn't it be great if Premier Li had his own Weibo?" one user wrote. "Then we could respond to him directly."