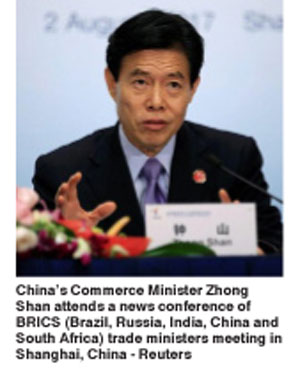 Shanghai (Reuters): China and the other BRICS nations pledged on Wednesday to fight protectionism and safeguard intellectual property rights, even as U.S. President Donald Trump considers action against what he sees as unfair trade practices by China.

Trade ministers from Brazil, Russia, India, China and South Africa concluded two days of meetings in Shanghai agreeing to deepen trade and investment links, and "safeguard and develop" the multilateral trading system, according to a statement by Chinese Commerce Minister Zhong Shan.

"Ministers were committed to continue to firmly oppose trade and investment protectionism, recommitted to their existing pledge for both standstill and rollback of protectionist measures, and called upon countries to join in that commitment," the statement said. The ministers also approved guidelines for cooperation between the five countries on intellectual property rights (IPR).

"Ministers agreed to promote exchanges and cooperation on IPR legislation and enforcement in order to create favourable conditions for trade and innovation-driven economic development," the statement said.

On Tuesday, a senior Trump administration official said Trump could decide as early as this week on how to respond to what he considers China's unfair trade practices.

A Chinese commerce ministry official declined to answer questions about Trump.

The United States has a long list of grievances about China on trade, including accusations of steel dumping and theft of U.S. intellectual property. Trump promised tough measures during his campaign last year but so far has not followed through.

Trump's interest in penalizing Beijing has risen because of his concern at what he perceives to be Chinese inaction on reining in an increasingly belligerent North Korea, which is pursuing its missile and nuclear weapons programmes in defiance of U.N. Security Council resolutions.

Beijing has repeatedly said its influence on North Korea is limited and that it is doing all it can. Moreover, it argues trade between China and the United States benefits both sides and that Beijing is willing to work with Washington to improve their trade relationship.