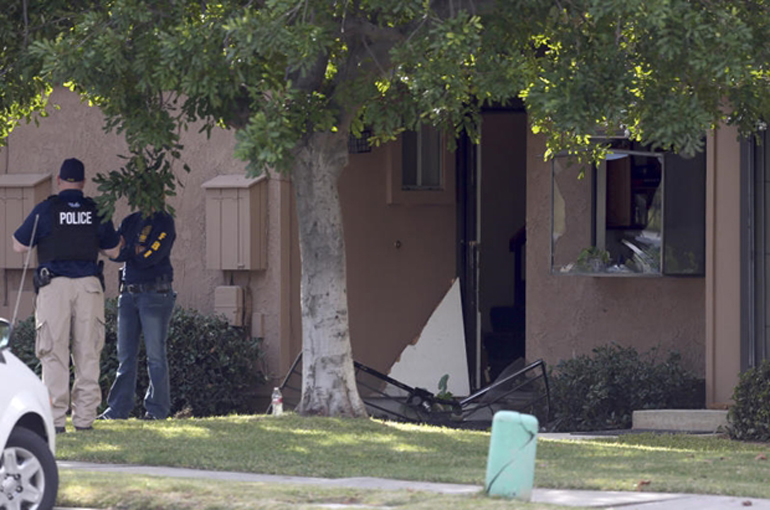 AFP (San Bernardino, United States): A young couple who killed 14 people in a shooting in California had amassed a huge arsenal and carefully planned their attack, authorities said on Thursday (3), refusing to rule out terrorism.

There were competing theories as to what drove US-born Syed Farook, 28, described as a committed Muslim, and his 27-year-old wife Tashfeen Malik to spray gunfire at a holiday party in San Bernardino, about an hour's drive east of Los Angeles.

The attack, which left 21 people wounded, was the deadliest in the United States since the 2012 massacre at a school in Connecticut that left 26 people dead, including 20 children.

San Bernardino Police Chief Jarrod Burguan said Farook and his wife – who dropped off their six-month-old daughter with Farook's mother shortly before the killings – fired about 75 rounds during the attack at a disabilities center that required "a degree of planning."

But the latest mass shooting in the United States could have been worse, after Burguan revealed that explosives rigged to a remote-controlled car were found at the scene of the carnage but the device failed to go off.

Another 1,600 rounds of ammunition were found on the couple and in their bullet-riddled black SUV after a police chase and shootout in which they died. Two police officers were wounded in the rapid exchange of gunfire on a quiet residential street, though neither seriously.

About 5,000 additional rounds, 12 pipe bombs and bomb-making material were also found at the home the couple shared.

"Nobody just gets upset at a party, goes home and puts together that kind of elaborate scheme," Burguan said, after indications that Farook had attended the party organized by the health department and left following a dispute, only to return a short time later with Malik.

He said the duo were dressed in black military-style gear and carried assault weapons and semi-automatic handguns when they raided the Inland Regional Center shortly before lunch time on Wednesday.

President Barack Obama, who ordered flags to be flown at half-staff until Monday, cautioned the motive for the carnage was not yet known, but a terror attack could not be ruled out.

"At this stage, we do not yet know why the terrible event occurred," said Obama, who has repeatedly called on the Republican-controlled Congress to pass tougher gun control measures. "It is possible that this was terrorist-related, but we don't know. It's also possible that this was workplace-related."

The FBI also cautioned that it was "way too early" to speculate on the motive.