PARIS (AFP): Angry French taxi drivers blocked key roads with burning tyres and hundreds of flights were cancelled as air traffic controllers joined civil servants, hospital workers and teachers for a 'Black Tuesday' of strikes.

At Orly airport, one protester was injured in the leg when a shuttle bus, whose driver said he 'panicked', forced its way through a blockade. Police said the bus driver was arrested.

Some 300 taxi drivers, furious over upstart competitors such as Uber, also blocked the capital's ring road at a key intersection in the west of the city, lighting fires and throwing smoke bombs. One Uber driver's car was splattered with eggs and kicked by protesters, an AFP journalist reported.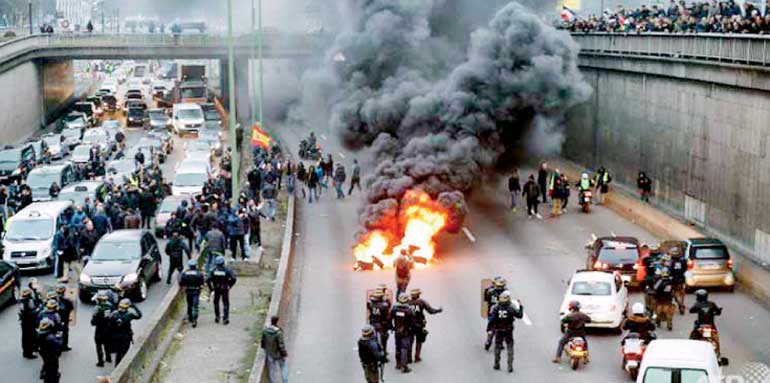 Anti-riot policemen arrive as taxi drivers block the traffic with a fire during a demonstration against the VTC (transport vehicle with chauffeur) on the ringroad at porte Maillot in Paris, France - AFP


"Today our survival is at stake, we are fed up of meetings and negotiations," said Ibrahima Sylla, spokesman of the Taxis de France collective. Some 20 protesters were arrested out of a total of 1,200 drivers on strike around the capital, police said.

"There is a right to protest ... even during a state of emergency," said Prime Minister Manuel Valls, referring to measures imposed after the November militant attacks in Paris. "But violence is unacceptable."

Adding to the chaos, one in five flights in and out of Paris – affecting both Orly and Charles de Gaulle airports - were cancelled because of a strike by air traffic controllers over pay and conditions.

Air France said it would operate all its long-haul flights and more than 80% of its short and medium-haul flights in France and elsewhere in Europe.

Budget airline Ryanair said it had cancelled more than 200 flights, and easyJet had cut 35 flights, mostly within France but also affecting Italy, Switzerland and Spain.

France banned Uber's low-cost UberPOP service – which used unlicensed drivers - a year ago, but the professional version of Uber continues to operate legally and taxi dispatchers in Paris say business has shrunk by 20 to 30%.

"Uberisation ... is not just a Paris problem but a world problem," said Paris Mayor Anne Hidalgo, sympathising with regular taxi drivers who "must be able to make a decent living". Uber flouted the UberPOP ban for several months, triggering a spate of violent protests in June.

The San Francisco-based company finally shut down the low-cost service in July after two of its French bosses were arrested and charged with "misleading commercial practices (and) complicity in the illegal exercise of the taxi profession".

Meanwhile some 5.6 million civil servants were called to down tools to protest reforms that have already seen €7 billion ($ 7.6 billion) in austerity cuts.

Kindergarten and primary school teachers were striking for higher pay, with about a third, or 100,000, expected to take part, according to their union, which predicted a stay-away rate of up to 45% in Paris.

The leftist FO union said pay freezes and inflation had led to an effective eight percent pay cut for civil servants since 2010.

The striking unions – which h led up to 120 demonstrations across France on what the daily Le Parisien dubbed 'Black Tuesday' – also claimed they were protesting against job losses totalling some 150,000 since 2007 and said the hospital sector was especially in need of new jobs.