Reuters: Britain said on Thursday there was a significant possibility that Islamic State's Egyptian affiliate was behind a suspected bomb attack on a Russian airliner that killed 224 people in the Sinai Peninsula.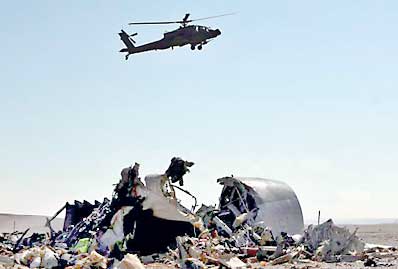 Asked if he thought Islamic State militants were responsible for the disaster, Foreign Secretary Philip Hammond said: "ISIL-Sinai have claimed responsibility for bringing down the Russian aircraft, they did that straight away after the crash.

"We've looked at the whole information picture, including that claim, but of course lots of other bits of information as well, and concluded that there is a significant possibility," he said on Sky television.

U.S. and European security sources say evidence now suggests that a bomb planted by Islamic State's Egypt affiliate - Sinai Province - was the likely cause of the crash. The sources stressed they had reached no final conclusions about the crash.

Islamic State, which wants to create a caliphate across the Muslim world, is also called ISIS and ISIL. Russia, an ally of Syrian President Bashar al-Assad, launched air raids against opposition groups in Syria including Islamic State on Sept. 30.

The hardline group has called for war against both Russia and the United States in response to their air strikes in Syria.

Britain has decided to stop flights from Egypt's Sharm El Sheikh resort to gain more time to assess security in the town, where the Russian plane started its ill-fated journey.


BLOODY CAMPAIGN

Islamic State, which also has a presence in Egypt's neighbour Libya, is waging a bloody campaign of suicide bombings and shootings in Egypt designed to topple the government of President Abdel Fattah al-Sisi.

The Egyptian leader is currently on a state visit to Britain, which like other Western powers sees Cairo as critical to efforts to counter militancy.

A senior Russian lawmaker said Britain's decision to stop flights from Egypt's Sharm El Sheikh resort, where the flight originated, was motivated by London's opposition to Russia's actions in Syria, the RIA Novosti news agency reported.

"There is geopolitical opposition to the actions of Russia in Syria," said Konstantin Kosachev, a senior member of Russia's upper house of parliament, when asked about Britain's decision.