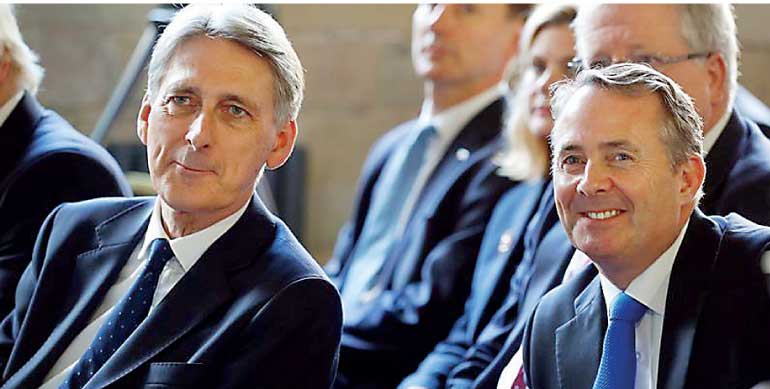 Britain's Chancellor of the Exchequer Philip Hammond and Secretary of State for International Trade Liam Fox attend Prime Minister Theresa May's election manifesto launch in Halifax, 18 May, 2017 – FILE PHOTO
London (Reuters): Britain said on Sunday that it wants talks with the EU to move on to the next phase, as it set out details of the future relationship it wants with the bloc and senior ministers presented a united approach to negotiations.

Britain is keen to start talking about its post-Brexit relationship with Europe, wary of the need to reassure anxious businesses, citizens and investors. But Brussels has insisted that progress must be made on divorce arrangements first.

"We need to get on with negotiating the bigger issues around our future partnership to ensure we get a deal that delivers a strong UK and EU," Brexit minister David Davis said in a statement.

Britain's call to move forward with Brexit talks came as finance minister Philip Hammond and trade minister Liam Fox presented a united front that there should be a time-limited transition period - signalling a truce between rival factions in Prime Minister Theresa May's cabinet.

Davis's Brexit department said it was preparing to publish several papers, including plans for a new customs arrangement and a proposal on how to resolve the difficulties of a non-physical border between Ireland and Northern Ireland.

"We've been crystal clear that issues around our withdrawal and our future partnership are inextricably linked," a source in Britain's Brexit department said.

"These papers show we are ready to broaden out the negotiations."

Talks so far have focused on how much Britain should pay to leave the EU, what rights British and EU citizens will have, and how to manage a land border to the bloc in Ireland. The two sides will be looking for a solution to those issues at the next round of talks due at the end of this month.

The decision to announce the publication of papers on its plans indicates Britain's desire to counter criticism from Brussels about its approach to the talks.

In July, EU officials said progress was difficult not because Britain had unacceptable demands, but because it had no position at all on many issues. EU negotiators have warned that an already-tight timetable could be delayed ahead of a scheduled March 2019 exit.