Reuters: Generating economic growth in the Middle East is crucial to defeating extremism, Iranian President Hassan Rouhani said on Tuesday , putting forward his country as a regional trade hub and pillar of stability.

Rouhani is on a four-day trip to Italy and France, looking to rebuild Iranian relations with the West some two weeks after financial sanctions on Tehran were rolled back in the wake of its nuclear accord with world powers last year.

"Sanctions do not lead to anything, they are not efficient," Rouhani told a business forum on the second day of his visit to Rome.

Italy announced some euro 17 billion ($18.4 billion dollars) of business deals with Iran on Monday (January 25). Mega contracts are also in the offing in France, reflecting European Union (EU) countries' keenness to cash in on the diplomatic thaw with the Islamic Republic.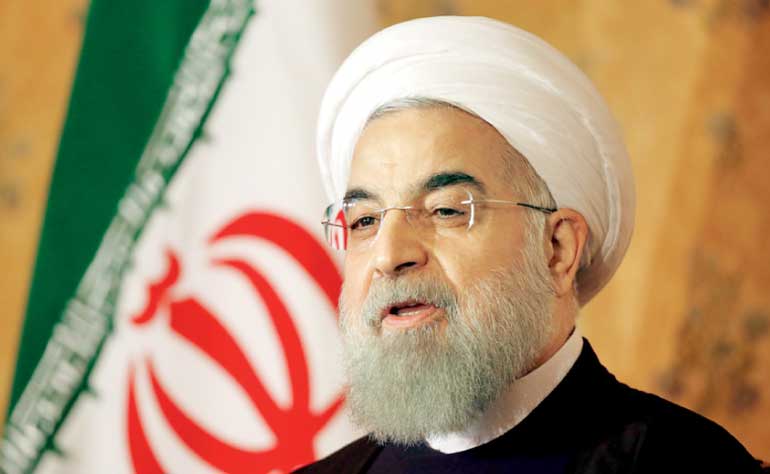 Iran President Hassan Rouhani attends during news conference in Rome, Italy, 27 January - REUTERS


Underscoring the growing warmth, Rouhani said he expected Italian Prime Minister Matteo Renzi to visit Iran in the coming months to help boost bilateral economic alliances.

"We are ready to welcome investment, welcome technology and create a new export market," Rouhani added, saying Iran had ambitions to develop its own economy after years of curbs and hardship.

"Under the new conditions, we want to export thirty percent of what we produce in Iran, overseas."

Italy has rolled out the red carpet for Rouhani and his 120-strong delegation of business leaders and government ministers, seeing Shi'ite Muslim Tehran as a possible partner in the battle against the Sunni Muslim jihadist group Islamic State.

"If we want to combat extremism in the world, if we want to fight terror, one of the roads before us is providing growth and jobs. Lack of growth creates forces for terrorism. Unemployment creates soldiers for terrorists," Rouhani said.

Many Western nations accuse Iran of funding various militant groups that are on U.S. and EU terror blacklists. Despite Iran's deal with world powers to curb its disputed nuclear programme, the United States is keeping some of its financial sanctions in place because of its links to organisations such as Hezbollah.

Any such criticism has barely been heard in Rome, with the government eager to welcome Iran as a potentially positive force in an increasingly fragmented Middle East.

"We maintained a good level of contact, so we can say today, Italy is not returning to Iran, as our institutions, our companies, never really left the country, not even in the most difficult of times between Iran and the West," Italian Foreign Minister Paolo Gentiloni told the business conference.

Industry Minister Federica Guidi told la Repubblica newspaper the total value of the contracts could exceed the 17 billion euros initially indicated by the government.

Two large Italian business delegations went to Tehran soon after the nuclear deal was inked last year. Another such group is scheduled to visit Iran from 8 -10 February.

After attending Tuesday's business forum, Rouhani headed across Rome in a 20-car convoy to meet Pope Francis at the Vatican.

The two were likely to discuss peace prospects for Syria and Iraq and the plight of Christian communities in the Middle East who have faced widespread discrimination.