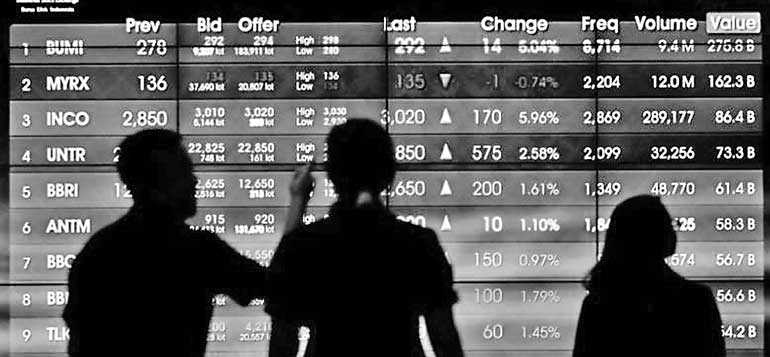 Reuters: Asian stocks slipped on Friday as investors took profits after a strong week, while the Korean won weakened after US President Donald Trump said he would renegotiate or terminate a trade deal with South Korea.

The dollar was 0.2% stronger at 1,132.55 won following Trump's comments in an interview with Reuters.

Trump also told Reuters that a major conflict with North Korea was possible over its nuclear programme but that he would prefer a diplomatic solution, and that he wanted South Korea to pay for the $1 billion THAAD anti-missile defence system.

Trump's comments about the free-trade agreement "can be understood as a sign of (further) protectionism," said Jung Sung-yoon, a foreign exchange analyst at Hyundai Futures.

South Korea is adopting a "wait and see" approach to see if any policy steps eventuate, a high-ranking official at the nation's finance ministry told Reuters.

South Korea's KOSPI index, which opened higher, reversed its gains and fell 0.2%.

MSCI's broadest index of Asia-Pacific shares outside Japan also fell 0.2% but is on track to end the week up 1.7%, which would be its best week in six. Earlier in the week, it hit an almost two-year high.

"While we are seeing some buying (in safe-haven assets) it's fairly muted ... suggesting Trump's comments around North and South Korea have probably had a relatively muted impact," said James Woods, global investment analyst at Rivkin Securities in Sydney.

"We're just seeing some fairly healthy profit-taking ahead of key GDP and inflation data tonight."

Investors are awaiting first-quarter gross domestic product data out of Britain, France and the United States, and euro-zone inflation figures for April, due later in the session.

Japan's Nikkei slid 0.2% as March industrial output and household spending fell more than expected and consumer inflation remained tepid. But the index was poised for a 3.2% weekly gain, its strongest since November.

The yen was about 0.1% stronger at 111.13 yen to the dollar but looked set to end the week softer, with the dollar posting a 1.8% gain.

Taiwan stocks rose 0.1% and the Taiwan dollar was steady at 30.162 per US dollar, after the release of solid first-quarter economic growth that beat expectations.

Chinese stocks fell 0.7% and were set to end the week down 0.8%. Hong Kong's Hang Seng dropped 0.5%, shrinking the week's gain to 2.2%.

The euro was little changed at $1.08685 after the European Central Bank maintained its ultra-easy policy stance on Thursday, noting that inflation remained tepid. The central bank, however, acknowledged the strength of the euro zone economy.

The common currency is poised for a weekly gain of 1.3%, its best week in 5 1/2 months, buoyed by the first-round French election win of centrist and market favourite Emmanuel Macron.

The dollar index, which tracks the greenback against a basket of global peers, gained 0.1% to 99.165 but is headed for a 0.8% weekly loss.

Preliminary data is expected to show US economic growth slowed sharply in January-March to a 1.2% annualised rate from 2.1% in the previous quarter. Weaker consumer and construction spending was likely a drag on activity.

The corporate earnings season is going strong, however, with a series of positive earnings reports from Comcast, PayPal, Intuit and others propelling the Nasdaq to an all-time high overnight.

Google parent Alphabet and Amazon reported profits after the bell that beat expectations.

The S&P 500 and Dow Jones Industrial Average were flat.

Oil recovered, after touching its lowest level this month overnight on concerns about the restart of two key Libyan oilfields and muted gasoline demand.

US crude rose about 0.8% to $49.35 a barrel, but is headed for a weekly loss of 0.5%.

Global benchmark Brent was about 0.7% higher at $51.79, set for a drop of 0.3% for the week.

Gold was about 0.1% higher at $1,264.36 an ounce, narrowing the week's loss to 1.5%.