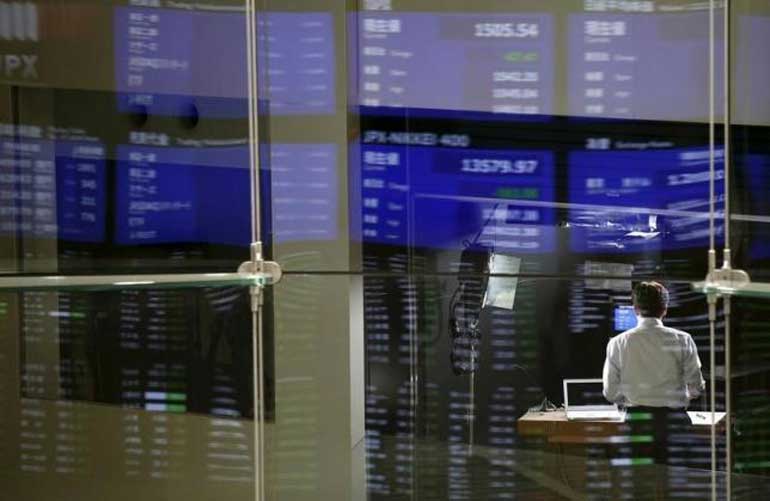 Asian shares slumped on Friday, while the dollar firmed after Federal Reserve Chair Janet Yellen suggested the central bank is still on track to raise interest rates later this year.

MSCI's broadest index of Asia-Pacific shares outside Japan gave up early gains and was down about 0.2%.

It was on track for a weekly loss of over 4% after markets were roiled by a survey showing China's factory activity fell to its weakest since 2009.

But financial spreadbetters expected European shares to open higher, with Britain's FTSE 100 seen up as much as 1.2%, Germany's DAX as much as 1.5% and France's CAC 40 1.2%, though major indexes could still end the week with losses.

Volkswagen shares will be in focus again in the wake of the company's U.S. emissions test rigging scandal.

The expected opening gains in Europe are mostly due to short sellers covering positions ahead of recent lows, said Jonathan Sudaria, dealer at Capital Spreads.

"There's nothing particularly bullish out overnight, in fact Asian markets have recommenced their sell off and Janet Yellen has soured the mood by practically confirming that a rate hike will be coming before year end," Sudaria said in a note.

US stock futures were up about 0.4%, also suggesting calmer trading later in the global session.

Japan's Nikkei ended a volatile session up 1.8%, but still gave up more than 1% in a holiday-shortened two-day trading week.

Data before the open showed Japan's core consumer prices marked the first annual drop since the central bank deployed its massive stimulus program more than two years ago.

The data came a day after Prime Minister Shinzo Abe declared that Japan was no longer in deflation as he laid out his new three arrows of "Abenomics."

Japan's government also cut its economic assessment and highlighted external risks posed by China and a US interest rate hike.


Yellen under the weather

Yellen, speaking a week after the Fed delayed a long-anticipated rate hike, said she and other Fed policymakers do not expect recent global economic and financial market developments to significantly affect the central bank's policy.

Yellen struggled to finish a speech at the University of Massachusetts at Amherst due to dehydration, for which she received medical attention. But she attended a dinner event as planned, a university spokesman said.

The euro tumbled about 0.6% to $1.1164 from around $1.1230 before Yellen's speech, while the dollar was up around 0.2% at 120.32 yen, from around 120.00 yen.

"Despite what Yellen said, there is still no guarantee that the Fed will hike rates this year. As such, the dollar is likely to lack clear direction," said Masafumi Yamamoto, senior strategist at Monex in Tokyo, who expects the pair to stick to a 118-122 yen range for a while.

The dollar index, which tracks the U.S. currency against a basket of six major counterparts, was up 0.4% at 96.318.

Federal fund futures contracts for January fell to as low as 99.735 in price, pricing in more than 50% chance of a rate hike by the end of this year, before erasing losses.

Stocks around the world fell for a fifth day on Thursday, sliding towards two-year lows as worries lingered over global economic growth and as Volkswagen's emissions test scandal rattled European carmakers.

The Brazilian real bounced back sharply after hitting a record low of 4.2482 to the dollar, after the head of the Brazilian central bank vowed to use all instruments in its arsenal to curtail the real's collapse.

The real last stood at 3.9363 per dollar, rising 6.1% on the day.

In commodities, crude oil futures held on to overnight gains after rising as much as 1% after an estimate of inventory draws at a key U.S. delivery hub. U.S. crude was up about 1% at $45.34 a barrel, while Brent was rose 0.8% to $48.56.