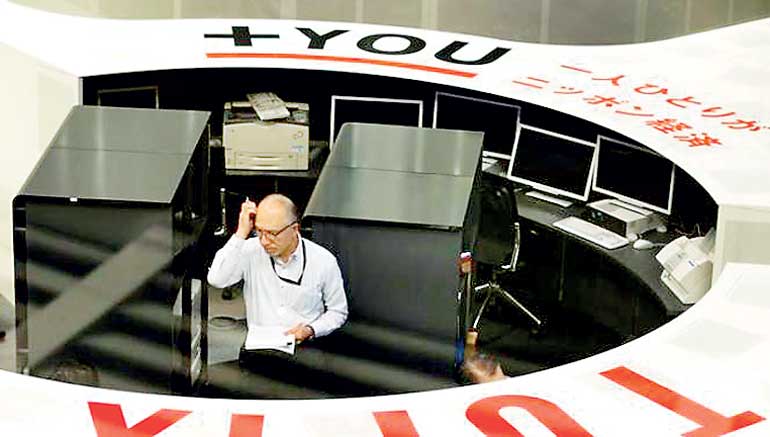 Reuters: Asian shares cautiously nudged into positive territory on Tuesday after downbeat economic data pressured Wall Street ahead of a key US jobs report that could provide important clues to the timing of the Federal Reserve's interest rate increase.

Crude oil prices firmed after plunging overnight, with US crude adding about 0.7% to $45.49 a barrel. Brent gained 0.4% to $49.70 after skidding 5% to six-month lows.

MSCI's broadest index of Asia-Pacific shares outside Japan was slightly higher, while Japan's Nikkei stock index slipped 0.2%, after breaking a three-day winning streak in the previous session.

China stocks were higher, with the Shanghai Composite Index and the CSI300 index both up more than 1%. Beijing has taken a raft of steps to support Chinese share markets after they lost more than 30% of their value since peaking in June.

"The market is still very volatile ... investors are likely to be quiet and see what the next step of the government will be," said Patrick Yiu, a director of CASH Asset Management in Hong Kong.

"The overall market momentum is not likely to pick up anytime soon and the economy in China is still very weak," added Yiu.

US equities markets stumbled overnight, after manufacturing data from China and the US both disappointed.

The Institute for Supply Management's index of national factory activity slipped to 52.7 in July, falling short of expectations that it would match last month's reading of 53.5.

The weak reading, and fears of disinflation stemming from the rout in oil prices, led investors to pare bets that the Fed's long-awaited interest rate hike will come as early as September.

Friday's employment data is expected to show the US economy created 225,000 new jobs in July, according to economists polled by Reuters. The unemployment rate is expected to hold steady at 5.3%.

"If we get some certainty about the strength of the US economy and the likelihood of policy normalisation by the Fed, and if a rate hike seems justifiable, that is positive for sentiment for global risk-on because a lot of people have been bracing for this," said Stefan Worrall, director of cash equities at Credit Suisse.

The dollar was steady on the day against its Japanese counterpart at 127.00 yen, while the euro was slightly lower at $1.0940.

Commodity currencies stabilised after facing pressure from crude oil's tumble.

The Canadian dollar was nearly flat on the day, though it edged down earlier to notch a fresh 11-year low of C$1.3176 per US dollar. Canadian markets will reopen on Tuesday after they were shut for a public holiday on Monday.

The Australian dollar last traded at $0.72330, up about 0.6% on the day and holding above last week's six-year low of $0.7234 after the Reserve Bank of Australia held its cash rate unchanged at a record low 2.0% as expected, and also toned down its calls for a weaker currency.

The Aussie also got a lift from Australian retail sales data, which showed a better-than-expected 0.7% rise in June, beating expectations of 0.5% growth.

Spot gold was down about 0.2% at 1,084 per ounce, dropping for a third session in four with a 5-1/2-year low in sight, as expectations that the Fed is set to raise interest rates this year undermined the precious metal.
---
Greece's financial woes see banking stocks plunge again
Greece's banking stocks plunged for the second day in a row on Tuesday, dragging the main Athens index down in a graphic illustration of the country's financial and economic woes.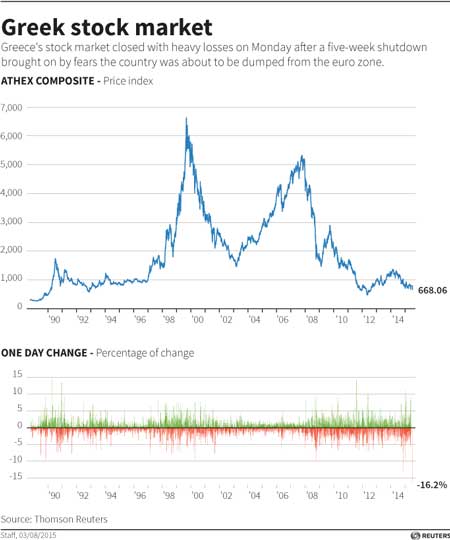 There were signs, however, that the rout that took eight billion euros off the market on Monday may be ending as already historically low valuations fall to levels at which investors start moving back in.

The banking index, comprising the four major lenders, was down 27.1%, managing to keep above the 30% daily loss limit at which trading is halted. It hit that limit on Monday.

This was partly because there were some buyers on Tuesday for National Bank of Greece and the smaller Attica Bank, both down 22%.

The overall Athens General Index, which shed a record 16.2% on Monday, was down a far more modest 1.4% on Tuesday. That suggested that without the banks, which hold a weighting of around 20%, the index would have risen on the day.