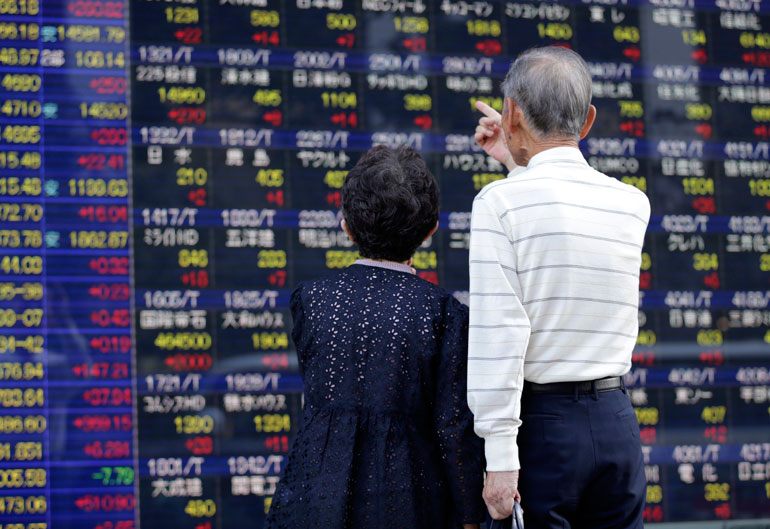 Asia share markets made guarded gains on Friday and the dollar held firm in the wake of reassuringly upbeat US retail data, though the mood was cautious as Greek debt talks took yet another confusing turn.

Activity was sparse with MSCI's index of Asia-Pacific shares outside Japan up 0.4%, but only just above three-month lows.

Japan's Nikkei was all but flat though it found some support in a dollar bounce against the yen. South Korea managed a gain of 0.6% and Shanghai shares added 0.7% in early trade.

The gains followed a slightly firmer close on Wall Street with the Dow up 0.22%, while the S&P 500 added 0.17% and the Nasdaq 0.11%.


Sentiment was bolstered by a solid rise in US retail sales which, combined with upward revisions, suggested the economy was warming after a chilly start to the year.

If the momentum is sustained, the Federal Reserve could indeed begin to hike interest rates later in the year, a scenario still favoured by many economists.

The news helped the dollar index up to 95.032, and away from a near one-month low of 94.322 set on Wednesday. Against the yen, the greenback bought 123.50 yen, well off this week's trough of 122.46.

The euro had less luck as talks on Greece showed no sign of reaching a deal. The single currency was off at $ 1.1254, from a high of $ 1.1387 set on Wednesday.


The dip followed the International Monetary Fund's surprise decision to leave negotiations in Brussels and fly home because of major differences with Athens.


The move came as the European Union told Greek Prime Minister Alexis Tsipras to stop gambling with his cash-strapped country's future and take the crucial decisions needed to avert a devastating default.

Adding to the cautious mood, German newspaper Bild reported Berlin was holding 'concrete consultations' on what to do in the case of a bankruptcy of the Greek state, citing several people familiar with the matter.

This includes discussions about introducing capital controls in Greece if the crisis-stricken country goes bankrupt.
Oil prices fall after Saudis say could raise output to meet demand
Oil futures dipped on Thursday after Saudi Arabia said it was ready to raise output further to meet strong demand.

US crude prices hit a high of $ 61.82 a barrel earlier this week; their strongest since 6 May, as firm demand and a strong US stock drawdown lifted the market.


But the rally was halted by a dimming global economic outlook as well as top crude exporter Saudi Arabia saying it was ready to increase its oil output in the coming months to a new record to meet a rise in global demand.

Front month US crude fell 28 cents to $ 60.49 a barrel by 0152 GMT.

Brent futures were down 25 cents at $ 64.86 a barrel.


Thanks to relatively cheap crude oil, refiners have enjoyed high margins as demand for refined products has been strong, but there are early signs that overproduction will pull down margins as product oversupply emerges.

Independent stocks of oil products at Europe's Amsterdam-Rotterdam-Antwerp hub rose 5% in the week to Thursday to hit a record high of 5.845 million tonnes.

While gasoline refining margins remain near three-year highs and surprising diesel demand growth underpinned its margins, the profitability of European jet fuel has declined as thousands of tonnes in surplus cargoes land from new refineries in the Middle East, and some analysts and traders say jet fuel's fate could foretell margins for other oil products, particularly diesel.

Should demand for refined products fall due to emerging oversupply, analysts have said that would spill back into the crude market and pull down prices there as well, as refineries slash orders and reduce output.