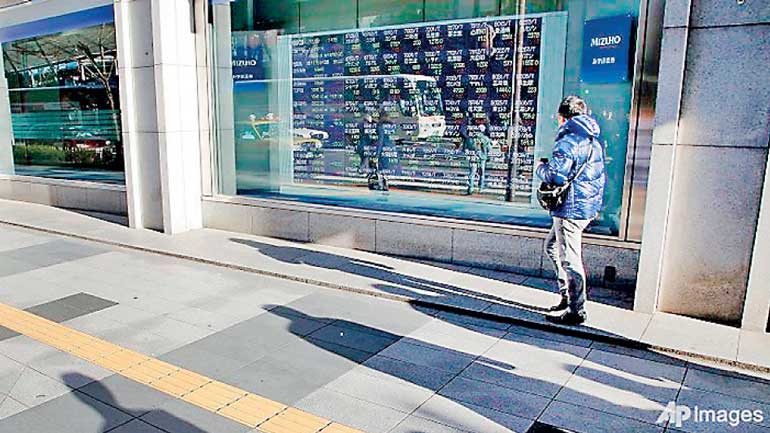 AFP: TOKYO: Asian stock markets broadly rose on Tuesday (Dec 29) in see-saw trading despite fears about the state of China's economy, a key driver of global growth.

Another slump in oil prices also curbed investors' enthusiasm in low-volume trading as markets wind down in the last week of the year.

Analysts warned that sliding crude prices, which had enjoyed a brief push upward last week, would drag on Asia-Pacific markets.

"Whenever the weakness in oil regains market attention, it weighs on sentiment," Toshihiko Matsuno, chief strategist at SMBC Friend Securities in Tokyo, told Bloomberg News. "Movement in Chinese shares will continue to have an effect on other markets."

However, mainland Chinese shares climbed in late afternoon trading, while Tokyo and Sydney cast off early losses to end higher, partly lifted by bargain buying.

Shanghai finished up 0.85% and Shenzhen added 0.95%. Hong Kong's Hang Seng index ended 0.36% higher. In Tokyo, the Nikkei 225 added 0.58% on bargain-hunting after ending flat at the lunch break.

Seoul tacked on 0.11%, while Taiwan closed 0.77% lower. Singapore closed up 0.45%.

Australia's benchmark S&P/ASX200 shrugged off early losses as investors bought banks and consumer stocks, offsetting falls in major miners, to end up 1.15%.

In Wellington, the NZX-50 index rose 1.07%.

Earlier in the day, sentiment drooped in the wake of disappointing industrial profit data that pointed to weakness in China's economy.

The looming end to a six-month Chinese share sale ban aggravated worries about a sell-off on mainland bourses.

Dealers were also spooked by reports that Saudi Arabia would cut fuel and utility subsidies in response to a record budget deficit to cope with plunging oil prices.
"The pre-Christmas general recovery in global risk sentiment is showing some signs of fragility as we approach the year-end," Australia National Bank credit analyst Simon Fletcher said in a commentary.

European markets were broadly steady at the open.

London's benchmark FTSE 100 index dipped almost 0.1%, while the Paris CAC 40 gained 0.7% and Frankfurt's DAX 30 was up 0.85%.