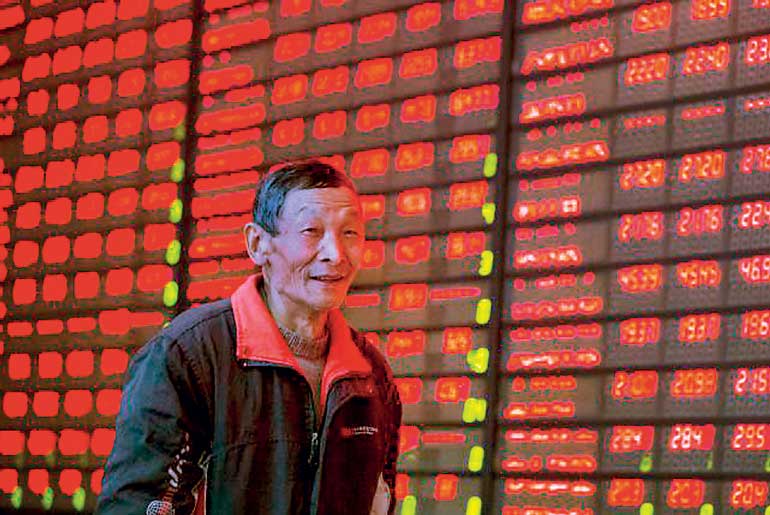 HONG KONG (Reuters): More gloomy date out of China on Tuesday kept Asian stock markets on the backfoot after they hit a two-month high in the previous session while the dollar extended its slide as investors grew wary ahead of major central bank meetings.

The softer backdrop saw spreadbetters predict Britain's FTSE 100 to open down as much as 0.8%, Germany's DAX 0.6% and France's CAC 40 0.7%.

MSCI's broadest index of Asia-Pacific shares outside Japan fell nearly a percent, led by falls in China although the mainland markets recouped steep early losses. Japan's Nikkei and South Korea's KOSPI fell more than half a percent each.

"We have seen a big move in markets in a very short period of time and investors are calling time ahead of the ECB and the Fed meetings in the coming days," said Kay Van-Petersen, global macro strategist at Saxo Bank in Singapore.

The European Central Bank is widely expected to ease at Thursday's policy review, but there is a lot of uncertainty about how far it would go. And in the United States, ahead of Federal Reserve policy meeting next week, fed fund futures were barely pricing in one more hike this year.

China was not far off investors' minds either, as February exports data from the world's second-biggest economy disappointed analysts' expectations, collapsing 25.4% from a year earlier, while imports fell by 13.8%.

Still, risk appetite showed up elsewhere as the impressive rally in commodities markets spilled over into an array of assets such as the high-yielding Australian dollar and mining giant Glencore, which is up 5% and 35%, respectively in a week.

Some investors talked about a potential bottom being formed in the commodity markets as large bearish bets are unwound and hopes of more coordinated measures from oil-producing countries to stem tumbling prices grew.

Brent crude futures jumped to as high as $41.04 per barrel on Monday, extending their recovery from a 12-year trough of $27.10 hit in January. U.S. crude futures also rose to $38.11 per barrel, its highest since early January.

Further improving the mood in the battered commodity sector, spot iron ore price surged almost 20%, hitting a near nine-month high on the back of China's plans to boost short-term output.

Ecuador's Foreign Minister, Guillaume Long, said his government will host a meeting in Quito on Friday with Venezuela, Colombia, Ecuador and Mexico "to reach consensus over oil, especially prices."

In the currency market, investors rushed back to commodity-linked currencies, sending the Australian dollar to as high as $0.7486 on Monday, its highest in almost eight months.

The Aussie last stood at $0.7420.

The Canadian dollar also firmed to a 3-1/2-month high of C$1.3262 per U.S. dollar and last stood at C$1.3334.

In Latin America, the Mexican peso, the Chilean peso and the Colombian peso all hit multi-month highs.

While the dollar was soft in general, major currencies saw limited moves. The euro traded at $1.10210, holding near one-week highs of $1.10435, ahead of the European Central Bank's policy announcement on Thursday.

The yen maintained slight gains made on Monday to trade at 112.96 yen to the dollar.

The currency hardly moved in response to data showing Japan's economy shrank an annualised 1.1% in October-December, slightly less than an initial estimate of a 1.4% contraction

The dollar's weakness helped to underpin gold, which hit a 13-month high of $1,280 per ounce on Monday and last stood at $1,266.