Reuters: Asian stocks dipped on Friday after weak corporate results halted Wall Street's record run overnight, while the yen held to large gains made after the Bank of Japan governor downplayed the need for "helicopter money" stimulus.

European markets are also likely to open lower, with financial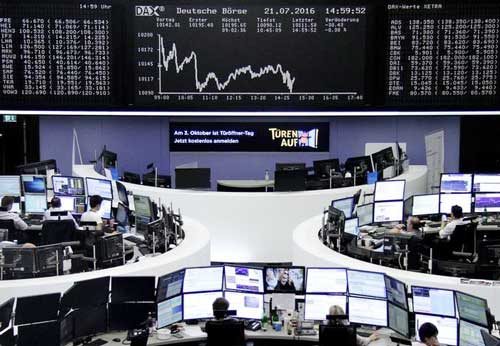 spreadbetter CMC Markets expecting Britain's FTSE 100 to open down 0.2%, and Germany's DAX and France's CAC 40 to start the day 0.4% lower.

MSCI's broadest index of Asia-Pacific shares outside Japan was down 0.4%. It remained close to its nine-month high seen on Thursday, and is headed for a fractional 0.1% gain on the week, ahead of the Group of 20 finance officials' meeting in Chengdu, China, this weekend.

China's CSI 300 index and the Shanghai Composite both slipped about 0.5%. The CSI 300 is poised for a loss of 1.1% for the week, and the Shanghai Composite 1%.

New Zealand shares continued their record-setting trend, climbing 0.2% to hit a fresh all-time high on Thursday. They're headed for a 2.2% gain for the week.

Shares in Taiwan, Indonesia and Thailand all closed at their highest levels in at least a year on Thursday. Australia ended at the highest point since Aug. 6, 2015, and Hong Kong set a 2016 high. All were trading lower on Friday, but set to end the week higher.

Japan's Nikkei closed down 1.1%, dragged down by the yen's 1% rally on Thursday. The index is still up 0.8% in a week in which it touched an eight-week high thanks to an initially weaker yen and hopes of fiscal and monetary stimulus.

In a BBC interview, recorded mid-June but broadcast on Thursday, BOJ Governor Haruhiko Kuroda ruled out the idea of using "helicopter money" – directly underwriting the budget deficit – to combat deflation.

"Pretty much everything is on the table when it comes to the next BOJ monetary policy decision on 29 July. Everything, that is, except for outright helicopter money," Frederic Neumann, co-head of Asian economic research at HSBC in Hong Kong, wrote in a note on Friday. "The case for more easing is evident, and markets are expecting swift and determined action."

Japan is likely to miss its deficit-cutting target in 2018 because the government has delayed a sales tax hike by more than two years, public broadcaster NHK said on Friday, citing an unidentified source.

The dollar was down 0.1% at 105.68 yen after coming off its peak of 107.49, its highest in six weeks, the previous day.

The dollar index was also flat at 96.948, compared with its four-month peak of 97.323 scaled on Wednesday.

The euro was steady at $1.1020. The common currency had briefly risen to $1.1060 on Thursday after European Central Bank President Mario Draghi noted that growth and inflation were moving along the path projected in June.

As widely anticipated, the ECB stood pat on monetary policy on Thursday. But, despite Draghi's statement that more evidence was needed before any decision, the bank kept the door open to more policy stimulus, citing "great" uncertainty and risks to the region's economic outlook.