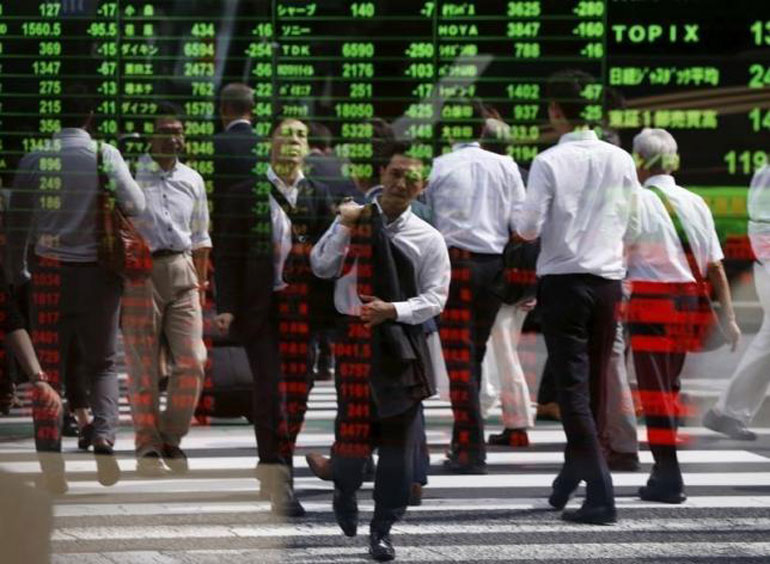 Passersby are reflected on a stock quotation board at a brokerage in Tokyo, Japan – REUTERS
TOKYO: Asian shares rose on Friday, taking their cue from a jump in oil prices and Wall Street gains after minutes of the Federal Reserve's latest meeting further quelled expectations of an imminent US interest rate hike.

Financial spreadbetters predicted bright starts for European bourses, with Britain's FTSE 100 seen as much as 0.9% higher, Germany's DAX 1.4%, and France's CAC 40 1.3%.

The Fed minutes revealed the extent to which policymakers are concerned that a global economic slowdown might threaten the US economic outlook. Though they said overseas turmoil had not "materially altered" economic prospects, they opted to hold interest rates steady last month.

Riskier asset markets, which had risen when the Fed held off raising rates in September, got a further boost on confirmation policy makers won't rush to tighten policy at a time of slackening global growth.

"The speculation about an imminent US rate hike was a risk that investors had been dealing with for a long time. Because such concern is fading now, investors are willing to take risks," said Hiroyuki Nakai, chief strategist at Tokai Tokyo Research Center.

MSCI's broadest index of Asia-Pacific shares outside Japan was up 1.8%, on track for a robust weekly gain of 6.8%.

The S&P 500 closed at a seven-week high on Thursday. S&P 500 e-mini futures edged up about 0.1% in Asian trading.

China's flagship indexes extended Thursday's 3% gains. The blue-chip CSI300 index was up 1.2% in afternoon trade, while the Shanghai Composite Index gained 1.1%.

"The chance of a US interest rate rise this year is getting slimmer," said Alex Kwok, chief analyst and head of research at China Investment Securities (HK).

Kwok said expectations that Beijing will unveil more stimulus measures have also soothed fears that China's economy may be at risk of a hard landing.

Japan's Nikkei stock index ended up 1.6%, and 4% higher for the week.

An unexpectedly weak US jobs report for September had led many investors to speculate that the Fed will not deliver its first hike since 2006 until 2016.

Data out on Thursday showed the number of Americans filing new applications for unemployment benefits fell more than expected to near a 42-year low in the week ended Oct. 3, keeping alive the view that improving labor conditions will prompt the Fed to eventually act.

Still, the dollar withered in line with fading near-term rate-hike expectations, with the dollar index down about 0.1% in Asian trade at 95.223, on track for a weekly loss of 0.6%.

The euro was up about 0.1% at US$1.1285 after scaling a three-week peak of US$1.1328 on Thursday, while the dollar edged up against its Japanese peer to 120.09 yen.

Emerging currencies also got a lift from the perception that the Fed will opt to keep rates low for a while longer, with Indonesia's rupiah rising over 3%.

Oil prices surged overnight after forecaster PIRA Energy Group predicted crude prices would rise to $70 per barrel by the end of 2016.

Crude oil futures extended gains, with Brent adding 1.5% to US$53.85 a barrel, up nearly 12% for the week. U.S. crude was 1.9% higher at US$50.38, up 10.7% for the week.

Gold added about 0.8% to US$1,147.10 an ounce, on track for a weekly gain of about 0.9%, after volatile trading in the wake of the Fed minutes. A delayed hike to interest rates could support gold in the near term.