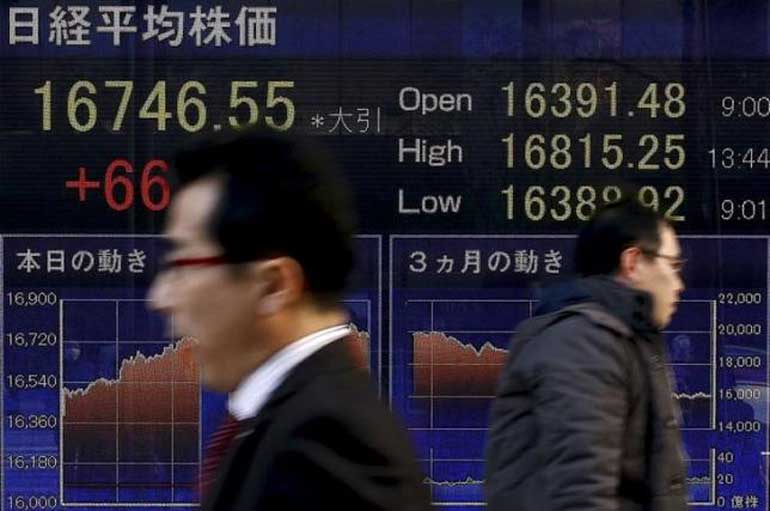 Reuters: Asian shares edged higher on Friday, oil touched a 2016 high and the US dollar weakened as investors turned more positive on riskier assets after the Federal Reserve's cautious stance on further interest rate increases.

MSCI's broadest index of Asia-Pacific shares outside Japan rose 0.9%, entering positive territory for the year for the first time. It's up 2.4% this week, and has surged 10.3% this month.

The Hang Seng index was up 0.7%, heading for a weekly rise of 3.6%. China's Shanghai Composite index and CSI 300 rose almost 2% each, and were set for gains of about 6.5% for the week. Chinese home prices rose at their fastest clip in almost two years in February thanks to red-hot demand in big cities. Still, risks of overheating in some places combined with weak growth in smaller cities threaten to put more stress on an already slowing economy.

Japanese shares, however, bucked the trend as the dollar's fall against the yen is seen hurting the country's exporters, with the Nikkei widening losses to 1.7%. That puts it on track for a decline of 1.7% for the week.

The broader gains echoed a recovery on Wall Street, where the S&P 500 Index gained 0.66% overnight to close at its highest since 31 December, led by the materials and energy sectors.

The rally in commodities and equities were spurred by Wednesday's Federal Reserve review when policy makers took a more cautious stance on future interest rate increases.

"We have got an important week out of the way from a macro data perspective, and not only have we come out of it unscathed, we are seemingly in a stronger place than where we started the week," said Ben Le Brun, market analyst at online brokerage OptionsXpress in Sydney.

"We have heard from central banks in all corners of the globe now and the liquidity party rolls on with the potential for more to come."

The benign rate environment, as well as optimism major producers would reach a deal to freeze output, proved a boon for oil.

OPEC kingpin Saudi Arabia and non-OPEC producers led by Russia will meet on 17 April in the Qatar capital Doha, aiming for the first global supply deal in 15 years.

After surging more than 10% over the prior two sessions, US oil futures CLC1 advanced to $40.55, the highest level since 4 December. They were last trading at $40.27, on track for a 4.6% increase for the week, their fifth straight week of gains and longest winning streak in about a year.

Brent crude held close to its three-month high of $41.60 reached in the previous session and again on Friday. It's headed for a 2.8% gain for the week.

Oil's rally has also been aided by a weakening dollar, triggered by the Fed's cautious approach to raising rates.

The dollar's index against a basket of six major currencies on Friday touched a five-month low of 94.578.

The euro retreated slightly from the five-week high of $1.1342 it hit on Thursday, last fetching $1.1315.

The yen was trading at 111.24, after climbing to 110.67 to the dollar on Thursday, the highest since October 2014.

Even the British pound, which has been dogged by worries about "Brexit" from the European Union, retreated only 0.2% to $1.4460 from Thursday's one-month high of $1.4504.

The Australian dollar shot up to $0.7681, its highest since July, helped by a recovery in commodity prices. It was last trading at $0.7654.

Copper CMCU3 advanced 1% to a four-month high of $5,120.5 a ton. Silver too jumped to a 4-1/2-month high of $16.111 per ounce, before falling back slightly to $16.05.