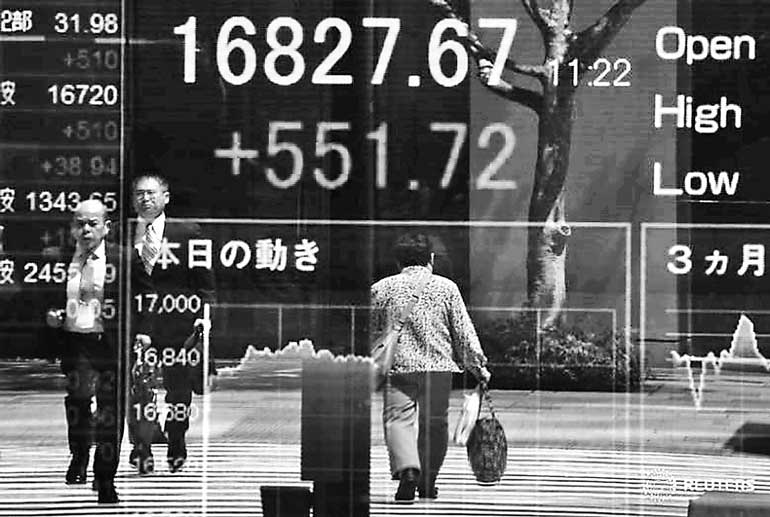 People are reflected in a screen displaying the Nikkei average outside a brokerage in Tokyo, Japan 19 April
Tokyo (Reuters): Asian shares held near 14-month highs on Friday as investors restored bets the Federal Reserve is settling into a phase of very gradual interest rate rises, while Japanese bond yields fell after the Bank of Japan's radical new policy scheme.

MSCI's broadest index of Asia-Pacific shares outside Japan ticked up 0.15%, driven by gains in Australia, and within sight of its highest levels since July 2015 that it hit in early September.

Japan's Nikkei dipped 0.3%, reflecting the yen's gains during Japan's market holiday on Thursday.

European share are seen opening little changed, with speadbetter picking a 0.1% fall in Britain's FTSE and 0.1% rise in Germany's DAX.

On Wall Street, the S&P 500 Index gained 0.65%, led by a 1.9% gain for the real estate sector.

The S&P 500 capped its best two-day performance in more than two months, while the Nasdaq closed at a record high.

The rallies began after the Fed on Wednesday maintained the low-interest rate environment that had helped underpin the bull market for stocks since the global financial crisis in 2008.

"Because the Fed is shying away from tightening, there will be liquidity sloshing around in the world's financial markets as well for another few months," said Tatsushi Maeno, senior strategist at Okasan Asset Management.

Fed Chair Janet Yellen did say U.S. growth was looking stronger and rate increases would be needed to keep the economy from overheating and fuelling high inflation.

But that hardly changed the market's perception on the outlook of the Fed's policy, with interest rate futures pricing in roughly a 60% chance of a rate increase by December, little changed from before the Fed meeting.

Crucially, the Fed also projected a less aggressive rise in rates next year and in 2018, fanning expectations bond yields will stay low in the foreseeable future.

"Fed officials have downgraded their forecasts for rate hikes in their projections. The Fed's meeting has confirmed that low interest rates will last longer than previously thought," said Shuji Shirota, head of macro economic strategy at HSBC in Tokyo.

The 10-year U.S. Treasuries yield dropped to as low as 1.608%, down sharply from Wednesday's high of 1.738% and hitting its lowest level in almost two weeks.

The German Bunds yield also fell about 10 basis points to minus 0.093% from plus 0.005% on Wednesday.

The 10-year Japanese government bond yield fell 2.5 basis points to minus 0.055% while the 30-year yield fell 4.0 basis points to 0.470%, hitting a two-week low of 0.450% at one point.

The BOJ said on Wednesday it would seek to guide the 10-year JGB yield around zero percent in an unprecedented move, but investors were left wondering exactly where and how the BOJ would be able to exert control on the bond yield.

Many market players think long-term bond yields are likely to fall if the BOJ continues the current pace of massive bond buying.

In the currency market, the dollar was softer on the Fed's policy outlook, with the dollar's index against a basket of six major currencies slipping to its lowest level in nearly two weeks on Thursday.

The index last stood at 95.510, off Thursday's low of 95.048 but down 0.5% on the week.

The euro fetched $1.1197, recovering from Wednesday's three-week low of $1.1123.

The yen stepped back to 100.91 on the dollar from a four-week high of 100.10 touched on Thursday after Japan's top currency diplomat warned Tokyo will take action if needed.