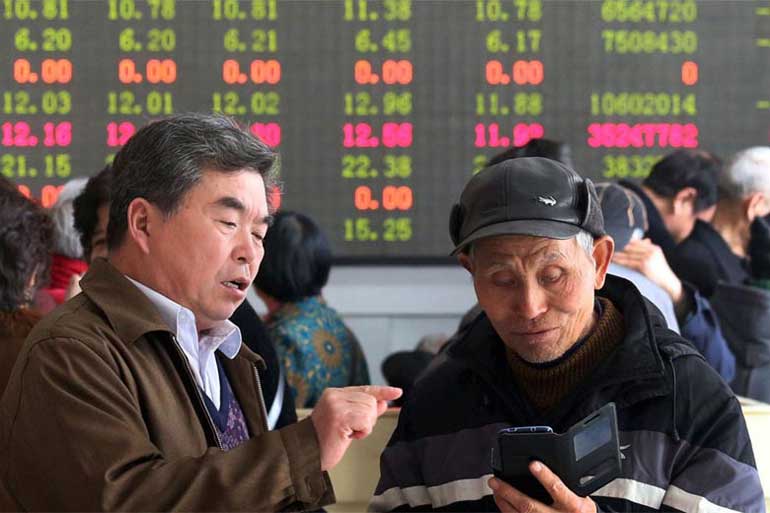 Reuters: Asian shares slipped on Friday as investors braced for US employment data that is expected to bolster the case for a Federal Reserve interest rate increase as early as next month.

European stocks were set to be little changed on the open, with financial spreadbetters expecting Britain's FTSE 100 to start the day flat to 0.2% higher, Germany's DAX to see a possible fall or gain of 0.1%, and France's CAC 40 to open flat to slightly weaker.

MSCI's broadest index of Asia-Pacific shares outside Japan edged down about 0.4% at 0620 GMT, though it remained on track for a 0.8% weekly rise.

Japan's Nikkei closed up 0.8%, ending the week up almost 1%. The Shanghai Composite extended earlier gains to climb almost 2%, putting it on track for a jump of 6.2% for the week.

Wall Street marked modest losses after a mixed spate of earnings, as investors awaited the non-farm payrolls report later this session.

"This is a big piece of data as to what the Fed is looking for," said Scott Colyer, chief executive officer of Advisors Asset Management in Monument, Colorado. "I think everybody wants them to move or not move. The month-to-month stuff is killing everybody."

On Thursday, U.S. interest rates futures implied traders saw a 58% probability of a rate increase in December, according to CME Group's FedWatch program, while U.S. two-year Treasury yields hit their highest levels in 4-1/2 years.

Economists expect the report to show that U.S. employers added 180,000 jobs in October, more than September's increase of 142,000 jobs.

New U.S. applications for jobless benefits last week recorded their biggest increase in eight months, but remained above the threshold associated with a healthy labor market.

"We're a little below consensus," said Jennifer Vail, head of fixed-income research at U.S. Bank Wealth Management in Portland, Oregon.

But based on recent comments from central bank officials, "it looks as if as long as we hit a 150-number, the Fed will think it's consistent with labor tightening," she said, adding that U.S. yields and futures were increasingly showing expectations for a December hike.

Fed Chair Janet Yellen and New York Fed President William Dudley said this week that the U.S. was ready for higher interest rates if upcoming economic data justified them.

Higher yields and rising expectations of a December rate hike lifted the dollar index, which last stood at 98.003, a touch lower than a three-month peak of 98.135 scaled overnight.

The dollar held steady at 121.84 yen after touching a 2 1/2-month high of 122.01 on Thursday, while the euro was also little changed at $1.0880 after dropping to a nadir of $1.0834, its lowest level in more than three months.

The stronger dollar added further pressure to crude oil futures, which were already dragged down by oversupply concerns.

U.S. crude edged up about 0.6% to $45.49 a barrel, after falling over 2% in the previous session. It was still on track to lose 2.4% for the week.

Other commodities also struggled, with London copper sliding to its lowest level in a month overnight. While it recovered 0.7% to $5,044 a ton, it was still set to end the week 1.3% lower, its third consecutive weekly loss.

Spot gold recovered to $1,109.4 an ounce from an eight-week low on Thursday, on track for a 2.8% loss for the week.