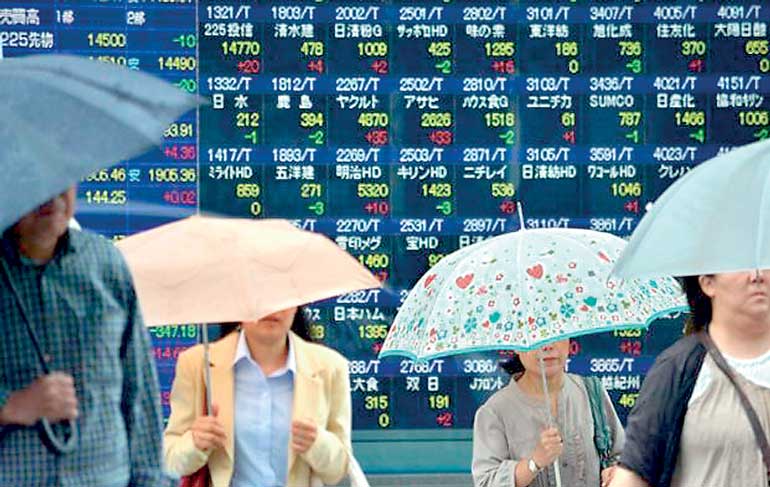 Asian shares were mostly down while the dollar held firm on Thursday after strong US service-sector data and comments from a Fed governor boosted confidence in the economy and fanned expectations of a interest rate hike in September.

Japan's Nikkei share average rose 0.7% at 0227 GMT while South Korea's Kospi reversed earlier gains to drop 0.7%.

Dollar-denominated MSCI's broadest index of Asia-Pacific shares outside Japan slid 0.6%.

"Overseas money that would have been allocated to Asia is on the sidelines at the moment," said Khiem Do, head of multi-asset strategy at Barings Asset Management in Hong Kong. "In the short term, waiting to hear the timing and magnitude of that move has definitely put a little bit of dampener on US stocks and some of the North Asian stock markets."

The Taiwan SE Weighted Index was down 0.8%, dragged lower by Largan Precision. Local media reported the key supplier for Apple Inc released weaker-than-expected July sales numbers and cut its outlook for August.

Australia's S&P/ASX 200 index lost 0.7%, after the unemployment rate climbed to 6.3% in July, even employment jumped by 38,500 since June.

Overnight, Wall Street shares mostly edged higher, helped by data showing the July pace of growth in the US service sector surged to a decade high, and by solid corporate results in Europe.

The US Institute for Supply Management's services sector index rose to 60.3, its highest level since August 2005, far beyond expectations for a 56.2 reading.

The data backed views the Federal Reserve will raise rates in September, more than offsetting weaker-than-expected US private hiring figures for July also published on Wednesday.

Atlanta Fed chief Dennis Lockhart, a voting member at the US central bank's policy committee, also said it would take "significant deterioration" in the US economy for him to not support a rate hike in September.

"Lockhart is not a policy hawk. He is always right at the middle of the road in the policy board," said Tomoaki Shishido, fixed income analyst at Nomura Securities. "As far as I remember, his cue on the Fed's policy in the past has proved almost always right."

In light of Lockhart's comments, US employment data due on Friday may do little to change perceptions unless it misses market expectations by a huge margin.

The dollar's three-month overnight indexed swap rate hit its highest level since 2010 on Wednesday.

The specter of higher US interest rates benefited the dollar against other currencies, lifting the dollar's index against a basket of six major currencies to a 3 1/2-month high of 98.218. The index last stood at 97.872.

The US currency cleared strong resistance around 124.50 yen to hit a two-month peak of 125.015 yen on Wednesday. It last stood at 124.79.

The euro also slipped to two-week low of $1.0847 on Wednesday before bouncing back a tad to $1.0902.

"Markets started to price in the chance of a rate hike in September," said Minori Uchida, chief currency strategist at the Bank of Mitsubishi-Tokyo UFJ.

"The focus for now would be how risk assets such as emerging currencies and stocks will cope with the prospects of a US rate hike," he added.

Investors are worried that weaning off decade-long zero interest rates on the dollar could prove tough for some emerging economies and companies that have taken cheap dollar funding for granted.

The Brazilian real hit a 12-year low and the South African rand hit a 14-year low on Wednesday. In Asia, the Indonesian rupiah and the Malaysian ringgit flirted with the lowest levels since the Asian economic crisis in the late 1990s.

On the other hand, few investors seemed worried about US share moves.

US shares' volatility index, seen as investors' fear gauge, briefly fell below 11%, its lowest level in more than a year.