Reuters: Asian shares and currencies tumbled on Monday on the first day of trading in 2016 after China factory activity contracted and its central bank guided the yuan lower, while oil prices jumped as much as 3% on rising tensions in the Middle East.

Leading the losses, mainland Chinese shares .CSI300 fell 7% to trigger the 'circuit breaker' on the very first day the trading suspension mechanism came into effect.

European shares are also seen opening lower, with financial spreadbetters expecting Germany's DAX to fall 1.5%, France's CAC 40 0.7% and Britain's FTSE 100 0.6%.

MSCI's broadest index of Asia-Pacific shares outside Japan fell 2.5%, on course to post its biggest loss since 24 August last year.

That came after it had shed nearly 12% in 2015 as China's cooling economy took a toll on its trade-reliant Asian neighbours and global commodity prices.

Adding to worries about China, its central bank fixed the yuan at a 4-1/2-year low on the first day of 2016, while manufacturing surveys showed that any hopes for a recovery in the sector were premature.

The surveys came after an official one published on Friday, which focuses on larger, state-owned firms, showed a fifth month of contraction.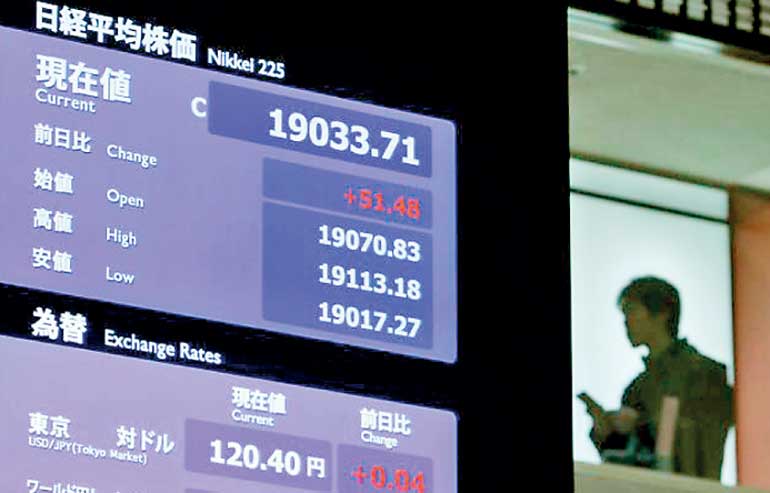 A man stands next to a stock quotation board displaying Japan's Nikkei average in Tokyo – REUTERS


"While some softness in the manufacturing sector was to be expected, having two major indicators pointing towards the same bearish direction is clearly impacting the market," wrote Gerry Alfonso, director at Shenwen Hongyuan Securities Co. in Shanghai.

China's benchmark CSI300 share index tumbled 7%, prompting the stock exchange to halt trading for the rest of the day.

"While fiscal support has helped slow the rate of economic deceleration, China needs to balance the need for stimulus with the reality of the unsustainable build-up in debt. This will continue to limit the scope for stimulus, and suggests further economic deceleration in 2016," Russ Koesterich, global chief investment strategist at BlackRock, said in a note to clients.

Investors dumped stocks also ahead of the imminent expiration of a Chinese share sales ban on listed companies' major shareholders, which had been imposed during the market crash last summer.

Japan's Nikkei fell 3.1%, its largest fall in over three months, to a 2-1/2-month low. US stock futures fell almost 1.0% ESc1.

The offshore yuan fell to as low as 6.6181 to the dollar CNH=, its weakest since early 2011. Onshore, the yuan CNY=CFTC hit its lowest since April 2011, at 6.5140.


That put pressure on other Asian and Antipodean currencies.

The Australian dollar fell 1.1% to $ 0.7205 AUD=D4 while the Korean won shed 1.1% to 1,187.6 per dollar KRW=KFTC.

After China allowed the yuan to weaken by the most on record last year (4.7%), its stance on further depreciation of the currency will be a major question mark hanging over markets in 2016.

"There is speculation that China wants to guide the yuan much lower," said a trader at a Japanese bank. "But we often see erratic trades at the start of year. We have to see if this continues."

Oil prices jumped as Saudi Arabia's execution of a prominent Shi'ite Muslim cleric at the weekend spurred regional anger and geopolitical tensions in the Middle East. Riyadh cut ties with Iran after protesters stormed the Saudi embassy in Tehran.

Global benchmark Brent futures LCOc1, which fell 35% last year due to fear of over-supply in a global slowdown, gained as much as 3.3% to $ 38.50 per barrel, the highest in about three weeks.


Still, many think the market will remain under pressure as producers including the Organisation of the Petroleum Exporting Countries (OPEC), Russia and the United States pump between 0.5-2.0 million barrels of oil every day in excess of demand.

The cautious mood toward riskier assets helped the yen, which rose to 2 1/2-month high of 119.23 to the dollar JPY=.

The safe-haven Swiss franc gained about 0.8% against both the dollar CHF= and the euro EURCHF= while the gold also rose 0.8%, to $ 1,069.30 per ounce.

The euro also firmed 0.4% to $ 1.0892 EUR=.

In contrast, the British pound fell to 8 1/2-month low of $ 1.4813 GBP=D4, undermined by concerns about a vote on Britain's membership of the EU that could be held as early as June.

Investors looked to how much further the US Federal Reserve can raise rates this year after its first rate hike in almost a decade last month.

An immediate focus will be on Monday's ISM survey on US manufacturing, which is expected to show the sector is still in contraction after having hit a 6-1/2-year low in November.

"It was quite unusual for the Fed to raise rates when the ISM is below 50, (which indicates contraction). And we are likely to see another month of contraction. We have to see how long this will continue," said Masahiro Ichikawa, senior strategist at Sumitomo Mitsui Asset Management.