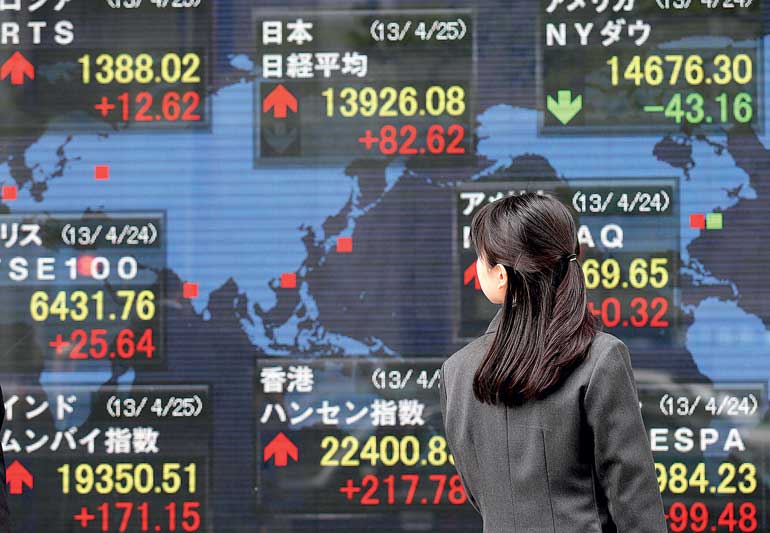 AFP: Asian traders moved cautiously Friday, at the end of a volatile week and following another tepid lead from Wall Street while focus shifts to the release later in the day of US jobs figures.

Markets have struggled to find stability over the past five days following Donald Trump's controversial ban on travellers from seven Muslim-majority countries and claims that China and Japan were currency manipulators.

The unpredictable start to the tycoon's presidency and his protectionist rhetoric have sent shockwaves through world capitals and fanned worries of a global trade war.

The selling pressure stands in stark contrast to the surge seen in the two months after Trump's election win, that was stoked by hopes he would press on with promises to ramp up infrastructure spending and cut taxes, firing up the US economy.

"With the news out of Washington and the new administration ramping up even further, past Trump reflation enthusiasm has waned further," David de Garis, a senior analyst at National Australia Bank, said in a commentary.

Tokyo ended flat having swung in and out of positive territory owing to fluctuations in the yen, while Hong Kong slipped 0.2%.

Shanghai closed down 0.6% as investors returned from a week-long Chinese New Year break unimpressed by data showing factory activity in the world's number two economy had stabilised.

Sydney eased 0.4% and Seoul added 0.1% while Singapore shed 0.2%. However, Wellington, Taipei and Jakarta were up.

In early European trade London was flat, Paris added 0.3% and Frankfurt gained 0.1%.

"It's been very choppy waters for investors to navigate through this week," said Gary Huxtable, client adviser at Atlantic Pacific Securities, in a note.

Attention now turns to the January jobs report due later Friday, which will provide a better picture of the US economy.

A strong reading will put pressure on the Federal Reserve to consider an interest rate hike in March, analysts said, following a batch of impressive figures this past week.

On forex markets the dollar recovered from morning losses against the yen but investors remain uncertain about its near-term future. It also built on gains against the pound after Thursday's one% surge that was fuelled by a dovish outlook for British spending by the Bank of England.

Policymakers upgraded their growth forecast for the British economy but kept interest rates low and took a cautious stance on future increases, citing an expected slowdown in consumer spending as the weak pound raises the cost of living.