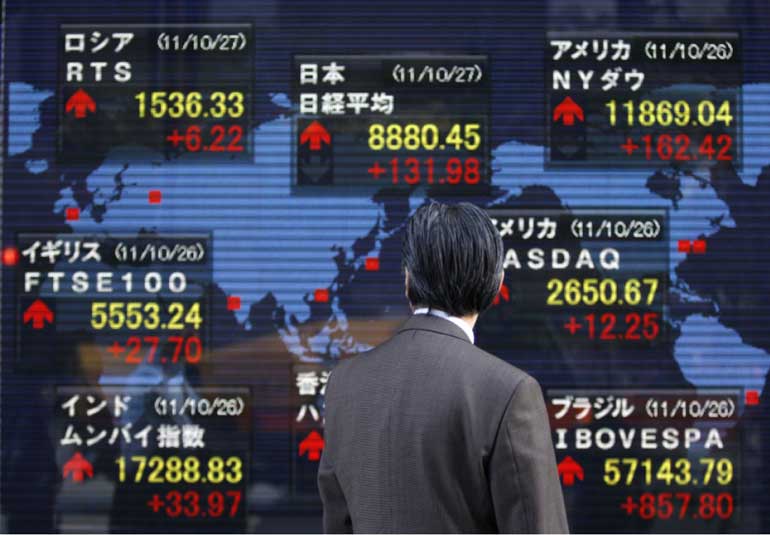 AFP: Asian stock markets fell back on Friday after a two-day rally boosted by the Federal Reserve's interest rate hike, as the rout in oil prices returned to centre stage, with commodity-linked shares again taking a hit.

Exchanges from New York and Sao Paulo to London and Tokyo cheered the Fed's widely-expected decision Wednesday to lift borrowing costs for the first time in almost a decade, which was taken as a sign of its confidence in the world's top economy.

However, while European equities extended their advance on Thursday, Wall Street's three main markets were dragged down by energy firms as oil prices tanked again on weak demand, a torpid global economy and a strengthening dollar.

Some of the names in the energy sector tumbled in US trade, including ExxonMobil, Chevron, copper and gold producer Freeport-McMoRan, and mining equipment maker Caterpillar.

Those losses were mirrored in Asia, with Sydney-listed Rio Tinto down more than 2% and BHP Billiton falling 0.9%, while Hong Kong-listed PetroChina shed 2.5% and CNOOC gave up 1.8%. Inpex sank 2.6% in Tokyo.

Among stock markets, Tokyo tumbled 1.9% on a stronger yen as a surprise tweak of the Bank of Japan's stimulus fell flat as it failed to widen its crucial bond-buying scheme.

"At first it seemed like the BoJ was progressing with easing, but when you look at what's inside that, it's nothing much," Ayako Seratni, a Tokyo-based market strategist at Sumitomo Mitsui Trust Bank, told Bloomberg News.

Hong Kong shed 0.2% and Seoul ended 0.1% lower. Sydney enjoyed a late rally to close 0.1% higher.

Downward force

Bernard Aw, Market Strategist at IG in Singapore, said: "The bounce yesterday was not premised on solid fundamentals. Despite the mere certainty provided by the Fed action, the road ahead does not seem hunky dory for global equities.

"The fact that the US stock markets gave back... attested to that. The force on the downside is strong."

Shanghai – which Friday marked 25 years since its first trade – saw a morning advance on data that showed new-home prices rose in November in more Chinese cities than the previous month thanks to government stimulus measures. However, it succumbed to late selling to end marginally lower.

The US rate rise sent the greenback rallying on Wednesday and Thursday, making oil more expensive for customers using weaker currencies.

That exacerbated pressure on the black gold, which has plunged about 15% since 4 December when the OPEC oil exporters' group decided not to put a limit on output despite a global glut and anaemic demand.

On currency markets the yen fell against the dollar immediately after the Bank of Japan announcement but soon clawed back the losses. The greenback hurtled to 123.50 at one point from 122.50 before the BoJ, but was down in the afternoon.

The dollar also eased back against most emerging currencies. The Australian dollar rose 0.2%, Indonesia's rupiah added 0.4% and Malaysia's ringgit gained 0.5%. The Singapore and New Zealand dollars as well as India's rupee and Thai baht also each kicked higher.