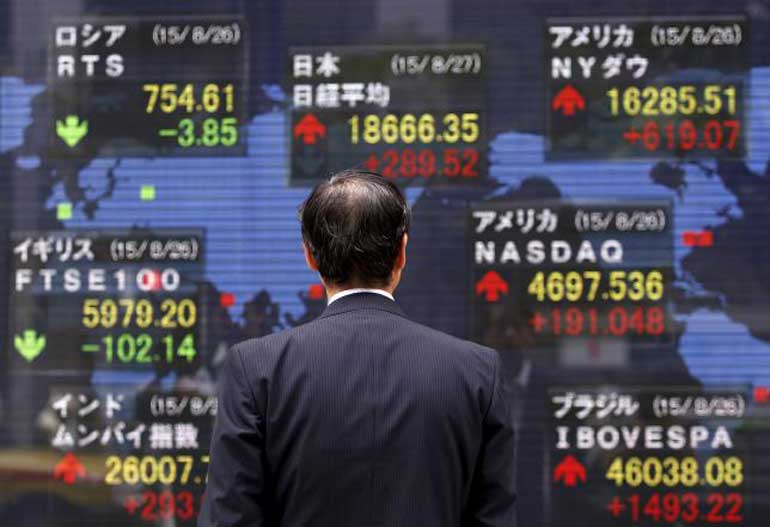 Asian markets extended a global rally into second day on Friday, as upbeat US economic growth data calmed sentiment following the hammering shares across the region took earlier in the week.

European stocks were poised to follow suit, and oil markets were following on from the biggest one-day rally in crude prices for six years, that was seen on Thursday.

Financial spreadbetters expected Britain's FTSE 100 to open around 8 points, or 0.1%, higher, Germany's DAX to open up around 13 points, or 0.1%, and France's CAC 40 to start the day about eight points, or 0.2%, higher.

MSCI's broadest index of Asia-Pacific shares outside Japan was up 1.2%. They were poised to gain 0.1% for the week after logging three-year lows as plunging Chinese shares had sent financial markets into a tailspin.

"The Asian session took news from US equities and commodity markets well today, although the pace of the gains looks to have slowed later in the session," Angus Nicholson, market analyst at trading services provider IG in Melbourne, wrote in a note for clients. "Positive noises on the U.S. economy are likely to help markets into the start of next week."

Wall Street rose sharply overnight thanks to revised US gross domestic product data showing the economy grew faster than initially thought in the second quarter – a reassuring sign amid worries over deepening economic woes in China.

On Thursday, the S&P 500 recovered about half of its 11% drop over six days.

Crude oil futures are on track for their first weekly gains in 11 weeks, ending their longest losing streak since 1986, despite plunging to 6-1/2-year lows earlier this week.

Both US crude and Brent surged more than 10% on Thursday, their biggest gain in a single day since 2008.

US crude jumped 1.9% to $43.35 a barrel, while Brent crude climbed 1.6% to $48.30.

The improved mood and better-than-expected core consumer inflation data drove Japan's Nikkei stock index to close up 3% higher, though it was still down 1.5% for the week.

China's Shanghai Composite index rose 2.5%, paring its loss for the week to 10.8%. The Hong Kong Hang Seng index gained 0.3%, but was down 2.2% for the week.

Besides the upbeat US GDP, last week's jobless claims also fell more than expected. That kept alive speculation that the Federal Reserve could raise interest rates this year if the momentum in the economy lasts.

"Concerns about a possible softening in China's economic growth have been offset by news of a sharp upward adjustment in US second quarter GDP," said Sydney-based Ric Spooner, chief market analyst at CMC Markets in a note to clients.

"From a growth point of view, the US Fed looks well placed to begin increasing interest rates in December."

The dollar index, which tracks the greenback against a basket of six major currencies, was steady at 95.671, after logging a one-week high of 96.031 in the previous session. The index remained well above a seven-month low of 92.621 touched on Monday.

The dollar held firm from late US levels at 121.05 yen, significantly above Monday's nadir of 116.15. The euro rose 0.1% to $1.1257.

Investors' focus was locked on an annual meeting of the world's top central bankers at the Jackson Hole Economic Symposium in Wyoming, as they sought clues to how Fed policy might be influenced by the recent market turbulence.

"We have to be careful ... trying to decide today how we might react to" recent financial market volatility, Kansas City Federal Reserve Bank President Esther George told Bloomberg TV in an interview that aired on Thursday. George, known as a hawk, said that the US economy still appears to be on solid ground.

Her comments followed New York Federal Reserve President William Dudley's remarks on Wednesday that the prospect of a September rate hike "seems less compelling to me than it was a few weeks ago" in light of the global market volatility.

Gold was up 0.5% at $1,131 an ounce but has lost 2.6% during the week.
Oil markets extend gains after biggest daily climb in six years
Crude oil futures rose on Friday, adding to their biggest one-day rally in over six years the day before, led by recovering equity markets and news of diminished crude supplies.

US crude are on track for their first weekly gains in 11 weeks, ending the longest losing streak since 1986. Brent crude is set for its first weekly gain in two weeks.

Asian shares extended a global rally on Friday after upbeat US economic data calmed sentiment, with Chinese stocks jumping for the second day following a rocky start to the week.

October Brent crude was up 24 cents at $47.80 per barrel as of 0404 GMT. It settled $4.42 higher at $47.56 per barrel in the previous session. US crude was 37 cents higher at $42.93 per barrel, after ending up $3.96 at $42.56 per barrel.

"A short covering rally, led by crude oil pushed commodities higher across the board. Better than expected US GDP numbers was the main spark, although the force majeure on BP's exports from Nigeria extended the gains," ANZ said in a note on Friday.

"The recovery in commodity prices looks fragile with concerns over China's growth still weighing on market activity."

The US economy grew faster than initially thought in the second quarter on solid domestic demand. Gross domestic product expanded at a 3.7% annual pace instead of the 2.3% rate reported last month, the Commerce Department said on Thursday in its second GDP estimate for the April-June period.

Shell's Nigerian unit, Shell Petroleum Development Company (SPDC), declared force majeure on Bonny Light crude oil exports on Thursday after shutting down two key pipelines in the country due to a leak and theft.

BMI Research, part of the Fitch ratings agency, said: "the renewed weakness in Brent is overdone from a fundamental perspective and due to recover into the US$50.00-60.00/bbl range within the coming months...With the next long-term line of support around USD35.00/bbl, we explore the potential catalysts for a move lower in Brent."

China's falling auto sales have been at the forefront of concerns that its economy is slowing much faster than expected, weighing on oil prices.

Venezuela has been contacting other members of the Organization of the Petroleum Exporting Countries (OPEC), pushing for an emergency meeting with Russia to come up with a plan to stop the global oil price rout, the Wall Street Journal reported.