CAIRO (AFP): Top Arab diplomats rallied behind Saudi Arabia on Sunday (10 Jan) in a dispute with Iran that has threatened to derail efforts to resolve Middle East conflicts including the war in Syria.

Iran meanwhile said Saudi Arabia was seeking to undermine talks to end the Syrian conflict, an accusation Riyadh fiercely rejected.

The UN envoy to Syria said he believed the dispute - which has seen tensions between the Sunni and Shiite regional rivals reach new heights - would not hurt efforts to bring Syria's warring parties together later this month.

After meeting in Cairo for emergency talks requested by Riyadh, Arab League foreign ministers issued a joint statement denouncing the 'hostile acts and provocations of Iran' in the dispute.

Saudi Foreign Minister Adel al-Jubeir also rejected Tehran's claims it was using the dispute to back away from international efforts to finally end Syria's nearly five-year civil war.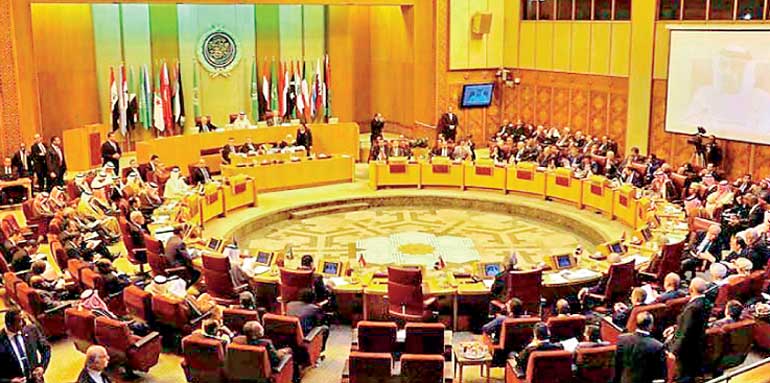 Saudi Arabia and Iran back opposing sides in the conflict, with Riyadh supporting rebel groups and Tehran behind President Bashar al-Assad.

Both countries had joined international talks launched in Vienna last year that backed an 18-month plan to end the conflict and foresees further talks on 25 January.

"We have previously stated our support for the Syrian opposition and for efforts to find a peaceful solution in Syria," Jubeir said.

"This is still the case, we believe in this and we fully support (the peace process) despite our differences with Iran," he said.

Ahead of talks with UN Syria envoy Staffan de Mistura in Tehran on Sunday, Iranian Foreign Minister Mohammad Javad Zarif had accused Riyadh of trying 'to create tension intended to negatively affect the Syrian crisis'.

But after the talks in Tehran, and with Saudi officials in the last week, de Mistura said both countries had vowed to continue to support peace efforts.

"The Saudi foreign minister assured me that there would be no impact from their point of view ... In Iran I got the same assurance," he told reporters.

The diplomatic row erupted following Saudi Arabia's execution on 2 January of a prominent Shiite cleric, Nimr al-Nimr, along with 46 others on terrorism charges.

The execution touched off anti-Saudi demonstrations in many Shiite countries including in Iran where demonstrators sacked and set fire to the Saudi embassy in Tehran and its consulate in second city Mashhad.

Riyadh cut diplomatic ties with Tehran the next day and was followed by a number of its Sunni Arab allies including Bahrain and Sudan. Other Arab countries downgraded ties or recalled their envoys to Tehran.

The dispute escalated, with Tehran on Thursday saying Saudi warplanes had bombed its embassy in Yemen, wounding staff, and vowing to protest to the UN Security Council.
Emirati gets death sentence for joining Syria jihadists
AFP: A court in Abu Dhabi on Sunday sentenced to death an Emirati convicted in absentia of having joined both the Islamic State group and Al-Qaeda's branch in Syria, a newspaper reported.

The Federal Supreme Court of the United Arab Emirates also found Khalfan Sultan al-Suwaidi guilty of recruiting fighters for IS and the Qaeda-affiliated Al-Nusra Front, Gulf News reported on its website.

Suwaidi, whose current whereabouts remain unknown, would be granted a retrial if he appears in court, based on UAE law, according to the daily.

The top court in the UAE also sentenced two other Emiratis, Fares Abdulaziz and Mohammed Awad, to seven years in prison each after convicting them of having joined "terror groups in Syria".

A third defendant was handed a three-year prison sentence after being convicted on similar charges, the daily said.

In July, the UAE executed an Emirati woman for the jihadist-inspired murder of an American school teacher in a toilet of an Abu Dhabi shopping mall in late 2014.

Also on Sunday, the Abu Dhabi court jailed a Palestinian for three years for "insulting UAE leaders and promoting the terrorist ideology" of IS, Gulf News said.

The court will meanwhile announce its verdict in the trial of 41 people allegedly seeking to overthrow the government to set up an IS-style caliphate in the Gulf state on March 6, the daily added.

The UAE is part of the US-led coalition that has been carrying out air strikes against IS in Syria since September.

It stepped up security measures since the wave of Arab Spring protests that swept the region in 2011.

Authorities have enacted tougher anti-terror legislation, including harsher jail terms and even introducing the death penalty for crimes linked to religious hatred and extremist groups.