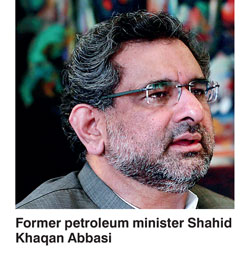 Islamabad (Reuters): A close ally of ousted Pakistani Prime Minister Nawaz Sharif on Monday submitted papers in parliament to become the new premier, part of a two-part plan by the ruling party for a smooth transition that will see Sharif's brother take the reins later.

Former petroleum minister Shahid Khaqan Abbasi is expected to be elected the new prime minister on Tuesday by Sharif's Pakistan Muslim League-Nawaz party's majority of lawmakers.

Pakistan's Supreme Court ordered Sharif disqualified from office last week over unreported income uncovered during a sweeping investigation of his finances.

The court also ordered a separate criminal investigation into Sharif and his family in its ruling, which Sharif's allies have portrayed as political meddling but opposition leader Imran Khan has hailed as a victory for the rule of law.

Abassi on Monday stressed he would continue Sharif's policies. His tenure is expected to last only about two months until Sharif's brother, Shahbaz, becomes eligible to be prime minister by winning a parliamentary by-election.

"Our party will succeed with our majority, God willing," Abassi told reporters inside parliament after filing the official nomination papers.

"The policies we had until Friday, we will continue with that," he added.

Sharif's PML-N party won elections in 2013 and holds a majority of 188 seats in the 342-member parliament, so it should be able to swiftly install its choice of premier, barring defections from its own ranks.

Over the weekend Sharif said he was shocked by Friday's Supreme Court ruling disqualifying him over unreported income from a company owned by his son in Dubai. Sharif said the monthly salary - equivalent to $ 2,722 - was nominal and he never actually received any of it.

Sharif's two previous stints in power were also cut short, the second ending in a military coup led by General Pervez Musharraf in 1999.

Initially placed under house arrest, Sharif went into exile before returning to win a resounding victory in 2013 elections.

The Supreme Court employed the little-used Article 62 of the Constitution, which calls for the dismissal of any lawmaker deemed dishonest, to remove Sharif.

His allies believe the verdict smacks of judicial overreach. Others say privately that elements of the military had a hand in the process.