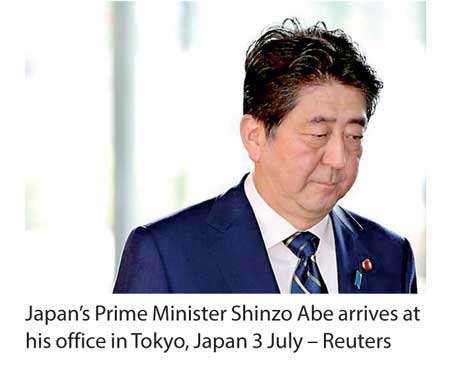 Brussels (Reuters): The European Union and Japan expect to commit to signing a free trade deal on Thursday, the EU said, in what both see as a push back against a feared U.S. turn toward protectionism under President Donald Trump.

Confirming on Tuesday that Japanese Prime Minister Shinzo Abe would meet heads of EU institutions in Brussels on the eve of a G20 summit with Trump and other world leaders in Germany, the European Council said: "Leaders are expected to announce a political agreement on the EU-Japan free trade agreement."

That would be short of a final accord ironing out all the commercial intricacies between two of the world's biggest economies and EU officials said on Tuesday that some key issues still needed to be settled before Thursday's EU-Japan summit.

However, confirming Abe's attendance is a sign of confidence that a deal will be ready for his signature and also puts pressure on trade negotiators to secure at least outline agreements on opening up each other's markets, including in the trickiest areas such as Japanese cars and European farm produce.

Both sides, having seen Trump pull back from free trade relationships, are keen to show they remain committed to removing barriers they say hamper growth. "It is important for us to wave the flag of free trade in response to global moves toward protectionism by quickly concluding the free trade agreement with Europe," Abe told ministers at a meeting on Tuesday about the EU negotiations.

"This agreement is also important for our growth strategy. We will negotiate with all our energy until the very end to achieve the best deal for Japan."

Abe will meet European Council President Donald Tusk, who speaks for the 28 EU national leaders, and European Commission President Jean-Claude Juncker, the bloc's executive head.

Juncker's Trade Commissioner Cecilia Malmstrom was in Japan at the weekend and said after her talks that she was "quite confident" that a broad agreement could be announced on Thursday. EU officials had said that Abe would only visit Brussels if both sides were certain that the political agreement would be signed.

Malmstrom said: "You can do good, fair, transparent and sustainable trade agreements where you win and I win, and not the American view, which seems to be, 'You lose and I win'."

Abe, Tusk and Juncker will go on to Hamburg on Friday for the G20 summit.

The host, German Chancellor Angela Merkel, is expected to lead calls for Trump to keep trade open. He pulled out of the Trans-Pacific Partnership (TPP) with Japan and 10 other states on his first day in office in January. U.S.-EU talks on a trade pact called TTIP have been in limbo since then.

Volker Treier, head of the foreign trade unit of Germany's DIHK Chambers of Commerce, said on Tuesday that the state of world affairs was such that a trade war with the United States could not be ruled out.

Japan and the EU launched their bilateral negotiations in 2013 but have been struggling to achieve breakthroughs in key areas, such as Japan scrapping tariffs on EU cheese and wine and Europe giving greater access for Japanese cars and car parts.

Although Japan and the EU account for about a third of global GDP, their trade relationship has room to grow - also by a third according to EU officials, who see a deal boosting the EU economy by 0.8% and Japan's by 0.3% long-term.