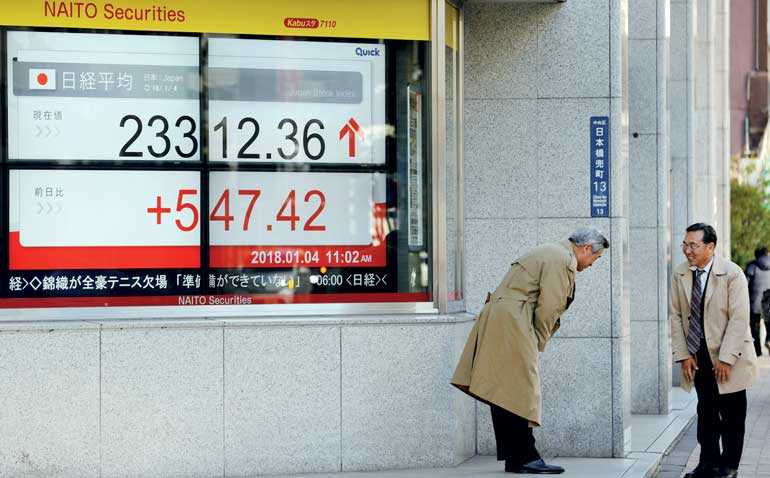 LONDON (Reuters): World stocks steadied near three-week lows on Wednesday and Chinese markets bounced after recent sharp falls as expectations grew that policy stimulus by Beijing could temper some of the impact from an escalating Sino-US trade conflict.

The dollar too eased off 11-month highs against a currency basket, Wall Street looked set for a stronger opening and MSCI's all-country equity index snapped a five-day run of losses, rising 0.3%.

Its rebound was fuelled by a bounce of almost one percent in MSCI's non-Japan Asian shares off 6-12-month lows, following gains in Hong Kong, Seoul and mainland Chinese indexes.

Assets perceived to be safe, such as the yen, Swiss franc and the government bonds of Germany and the United States, took a step back after hefty recent rallies.

"I suspect safe-havens such as Bunds and Treasuries could be put to the test as risk sentiment shows signs of stabilising," Commerzbank strategist Rainer Guntermann said.

One catalyst appeared to be a paper from China's central bank which suggested cutting banks' reserve requirement ratios (RRR), which would boost market liquidity and loosen monetary conditions. Analysts said an RRR cut appeared now to be a matter of time.

The central bank also fixed the yuan's exchange rate a touch higher against the dollar, after the currency posted its biggest daily loss in 1-12 years.

However, worries of a fully-fledged trade war between the two biggest world economies remain. Washington is threatening tariffs on $200 billion more of Chinese goods and a White House trade adviser said Beijing was underestimating President Donald Trump's resolve to impose more tariffs.

An escalation in tit-for-tat tariffs would hit hard world growth, company profits and price stability at a time when several big central banks, notably US Federal Reserve, are in policy tightening mode.

The Asian equity gains encouraged European bourses to open higher, with a pan-European index up 0.6% after slumping on Tuesday to two-month lows. However, an index of auto shares, a sector highly vulnerable to US tariffs, stayed in negative territory.

Equity futures for New York's S&P500 index rose 0.25% a day after US stocks fell sharply.

"At the end of the day, all these circumstances, including trade wars, have been in play for a while, and the market reacts sharply from time to time," said Francois Savary, chief investment officer at Swiss wealth manager Prime Partners. He cautioned however against pushing the equity rally too far "The framework is set there is monetary policy tightening, less liquidity, more geo-political uncertainty and an economic situation which in Europe at least we need to be more cautious about."


Sights on central banks

As the bid for safety abated, yields on 10-year US Treasury notes rose above 2.9022% after touching 2-12-week low around 2.88% and German yields also inched higher.